THE EXPATRIATE LIFE
(1968-1970)
Asia – following the trail of Alexander the Great

Martha and I bought a used VW "squareback" (station wagon) in Brussels, Belgium, and then headed east, down through Germany, Switzerland, and Italy to Greece, then picked up parts of the trail of conquest of Alexander (300s BC). We crossed Turkey, Iran, Afghanistan, Pakistan – encountering some of the most incredible driving conditions along the way, not to mention people and places.

By the most amazing timing, we hit historical sites well beyond the tourist season, traveling as we were in September, October, November, etc. For instance, at the Roman Colosseum, we saw no one else there at that time; at the ancient Roman city of Pompeii, there seemed to be only a handful of people touring the place; there were not a lot of people on Athens' acropolis; we were the only ones at Mycenae, Olympia, and Sparta (although Sparta was mostly still not excavated at the time); we were the only ones at the ancient Cretan capital of Knossos (on both of our two days visiting there); there was only another two or three people at the ancient city of Corinth; no one else was at Alexander's home of Pella or at the ancient Hittite capital at Boğazkale , and on and on. It was weird and wonderful. But it allowed us not just to tour the sites, but to sit and reflect on the historical perspectives that just being there allowed.
We bought a VW "Squareback" in Belgium, and proceeded to head Southeast, to Geneva, then Italy, then East across to Greece, then on to Turkey, then Iran, Afghanistan, Pakistan (leaving the car there and continuing on by train), to India and finally flying from India to Nepal … arriving in Katmandu by Christmas.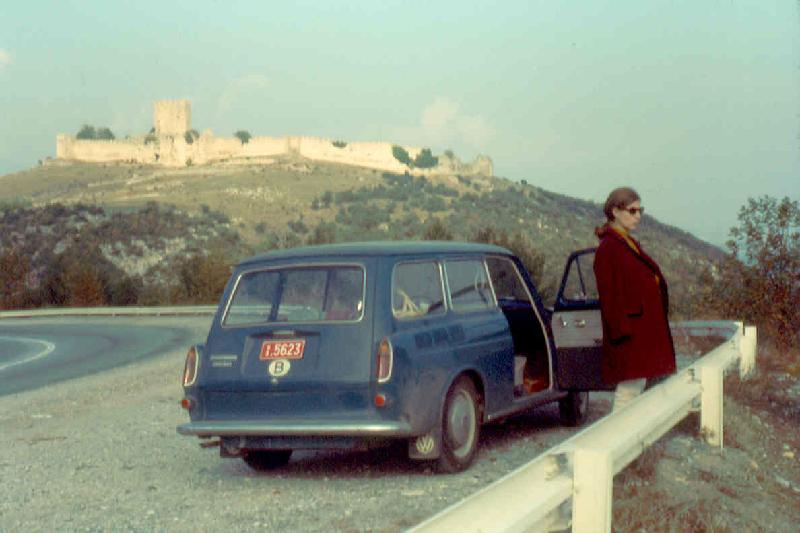 What was so wonderful was that it was past the tourist season … and we had famous historical sites nearly to ourselves. In fact, in most instances, we were the only ones on site.
In Greece: the ruins of ancient Sparta and the ancient Stadium of Olympia
Mycenae: The Lion's Gate and King Agamemnon's Palace
The ancient city of Corinth
Athens – Early October (1968) The Parthenon and the Erechthion
Knossos, the capital of the great Crete civilization /
Martha staring down into the Labyrinth
The king's room and the throne room at Knossos
Alexander's capital at Pella in Macedonia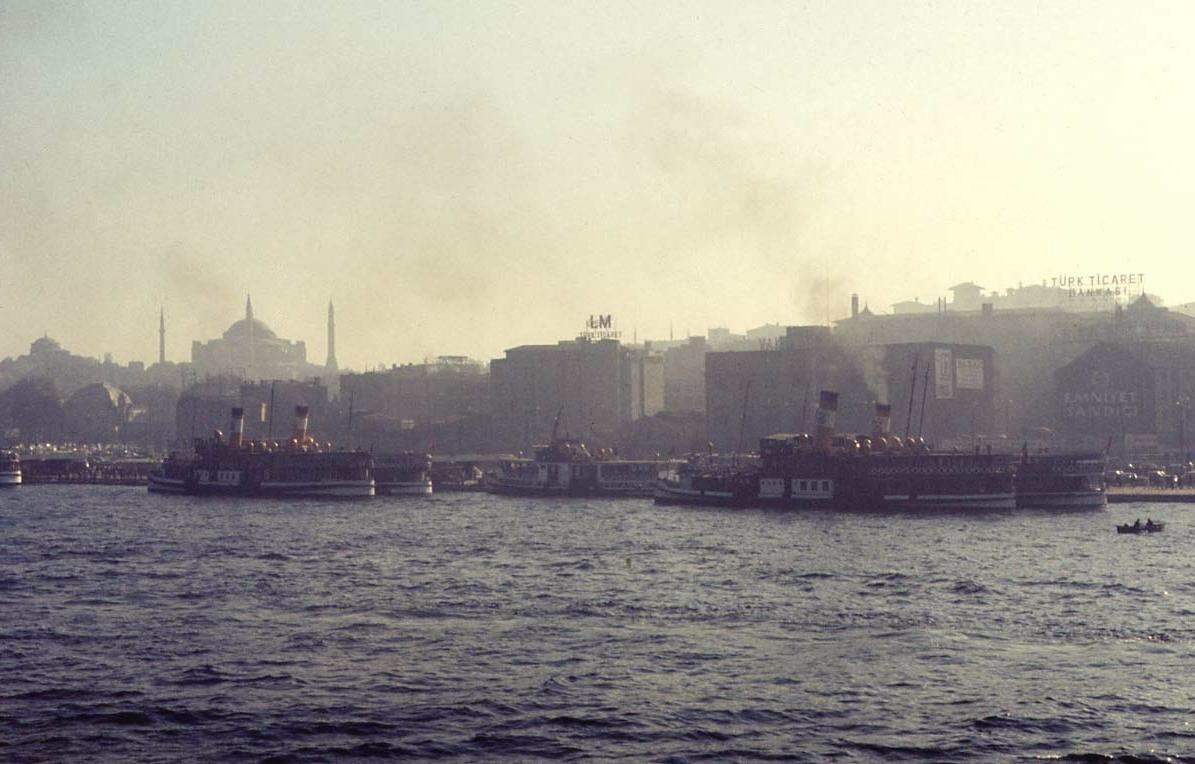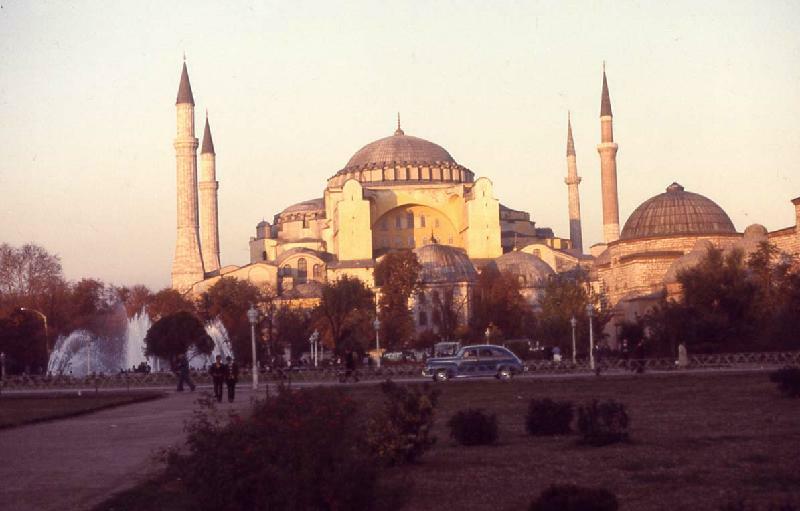 It's November ... and we arrive in Istanbul: The Bosporus and the Hagia Sophia
Inside the Hagia Sophia
As we head East from Istanbul through Bithynia, we are most definitely in Asia ... and getting our first glimpse of the Asian countryside as it will appear across Turkey, Iran and Afghanistan. Impressive vistas ... but barren.

We stop along the way at Gordian, to visit "Midas's Tomb" (probably not!)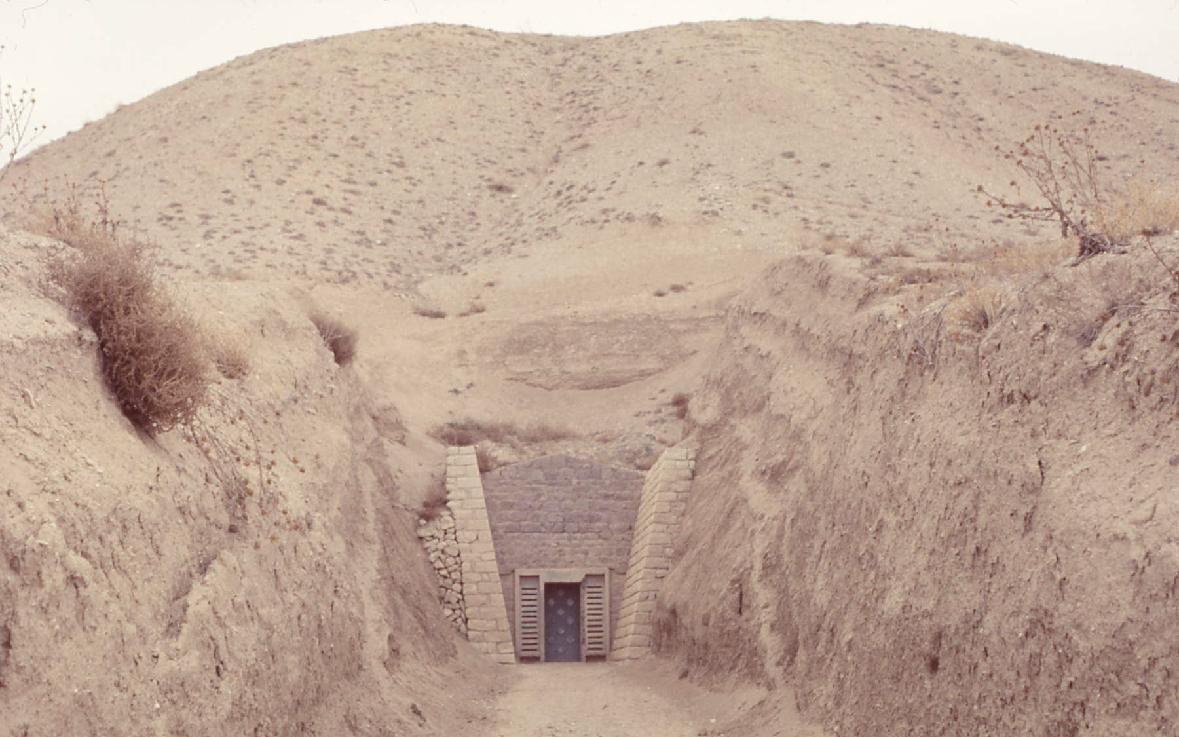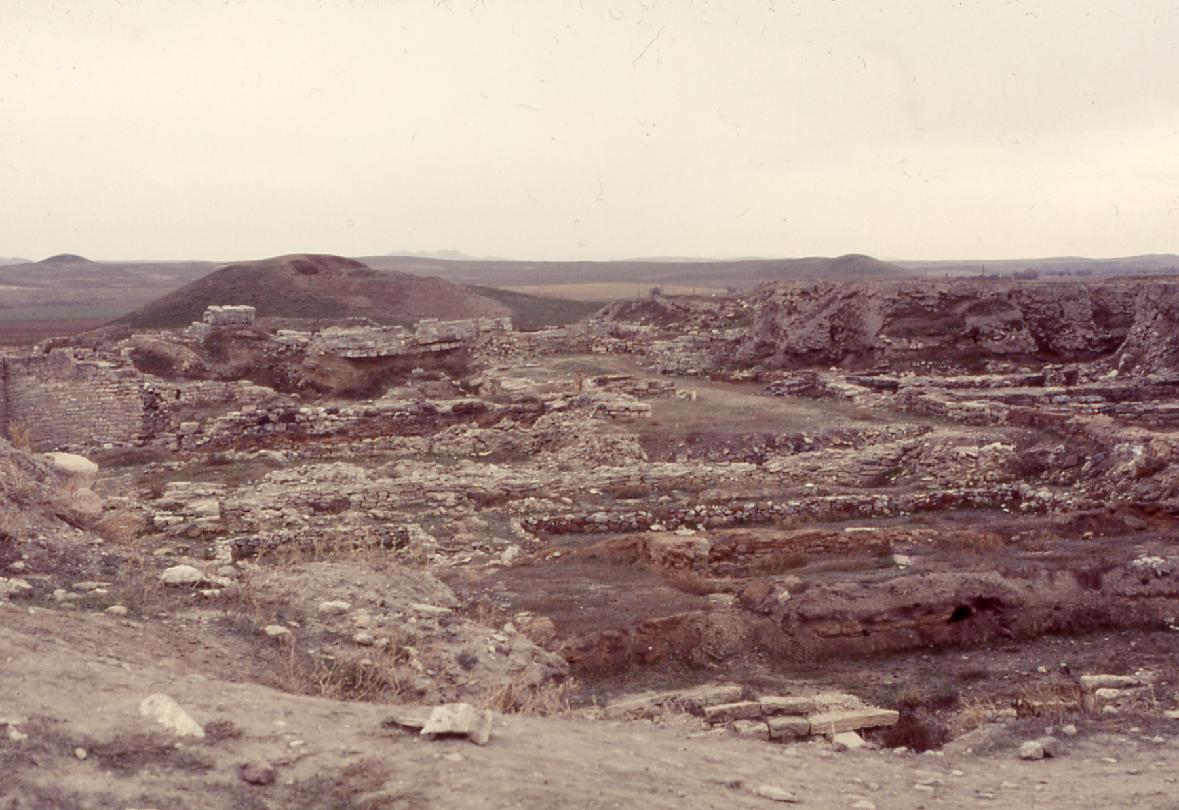 ... and the ruins of the city where Alexander "untied the Gordian Knot" with his sword ... fulfilling the prophecy that one such as he would conquer the world. Although Alexander did not conquer the world, he did conquer a good part of it!
We finally arrive (through massive mud) at Boğazkale … location of
the ancient capital of the Hittite Empire (anciently, the city was called Hattusha)
Once again, we spent the day alone there (noting where a swinging door left its scratches!)
We arrived at the coast of the Black Sea (which most definitely is

not

Black!)
... and a very nice road, though a bit crowded here and there!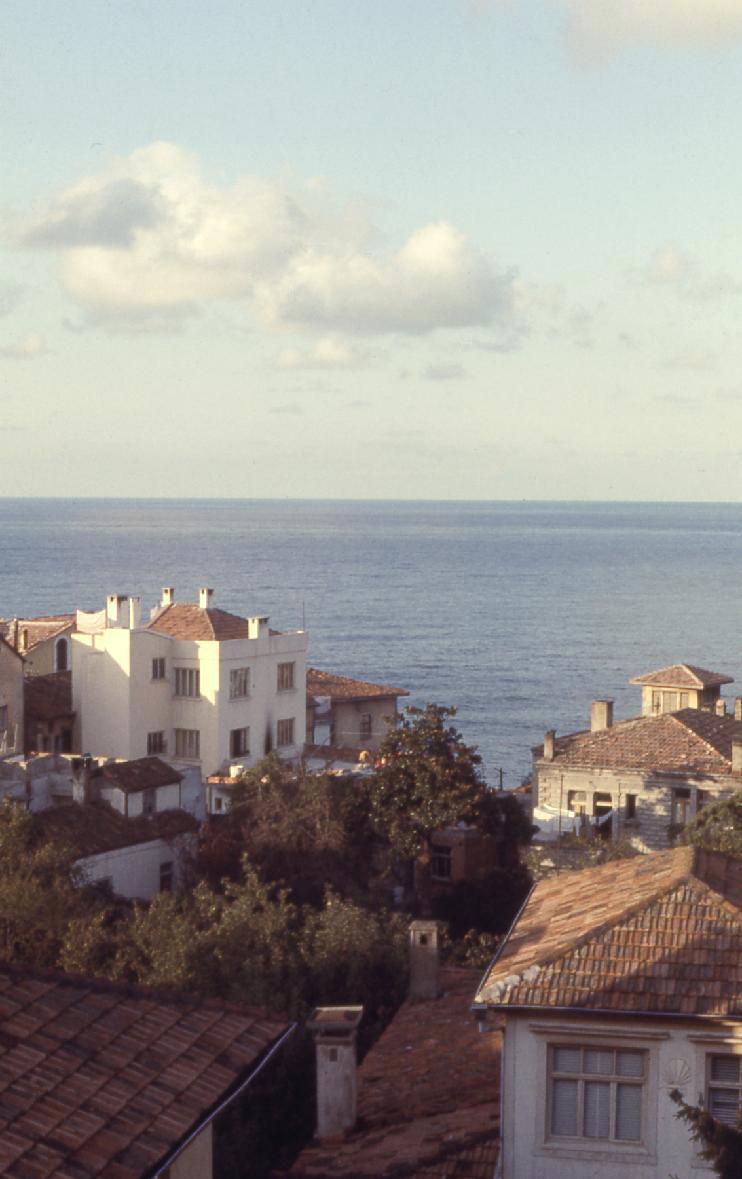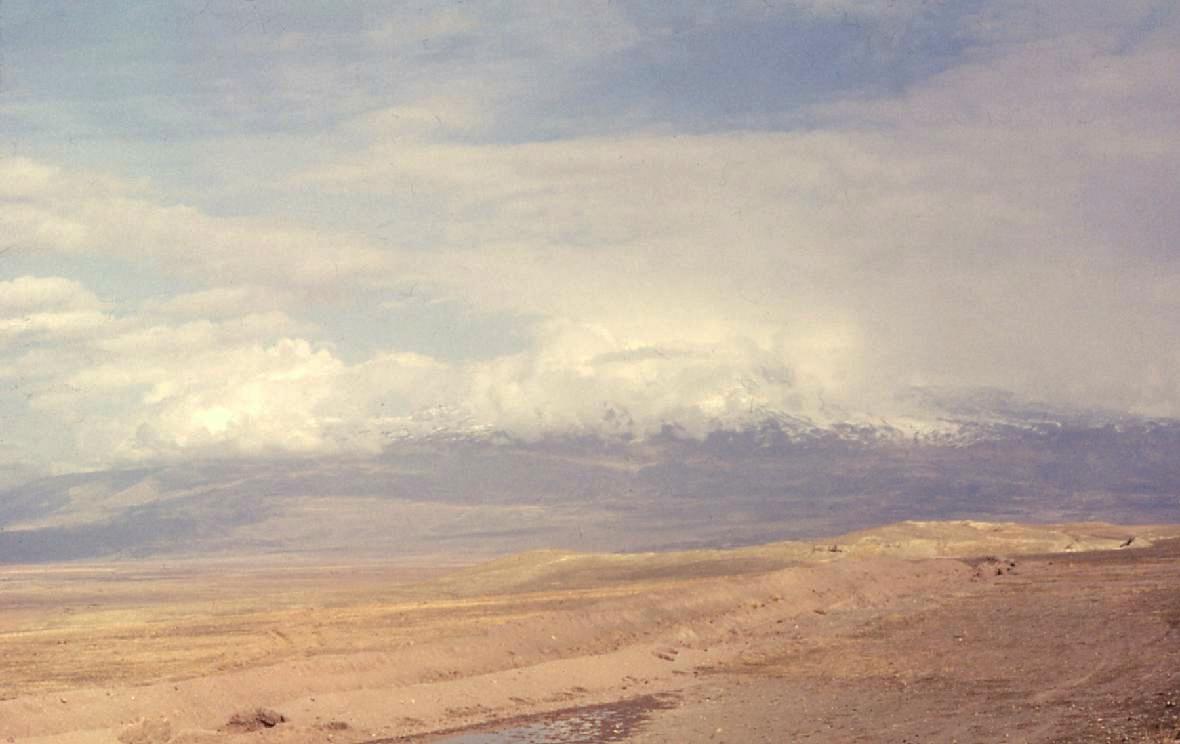 We then arrived at the beautiful Black Sea coastal city of Trabzon ... before heading east
... and passing Mount Ararat along the way (the famed resting place of Noah's Ark)
While at Trabzon, an American soldier posted at an observation post there told us a tragic story of how this region known as Turkish Armenia was cleared of its Armenian population by the "Terrible Turks" during the early part of the 20th century ... by Turks loading the Armenian men into boats and dumping them out in the Black Sea ... and then turning on the women and children ... who suffered all sorts of unmentionable treatment by the Turks.
At this point we headed into the Armenian Mountains
... and, as the road took us higher, we saw some very worrisome snowy conditions ahead.
This made me quite nervous, because I knew that we had to come back
this same way some months later, during the height of winter.
Eventually we came down the other side ... where I had some serious car cleanup to do!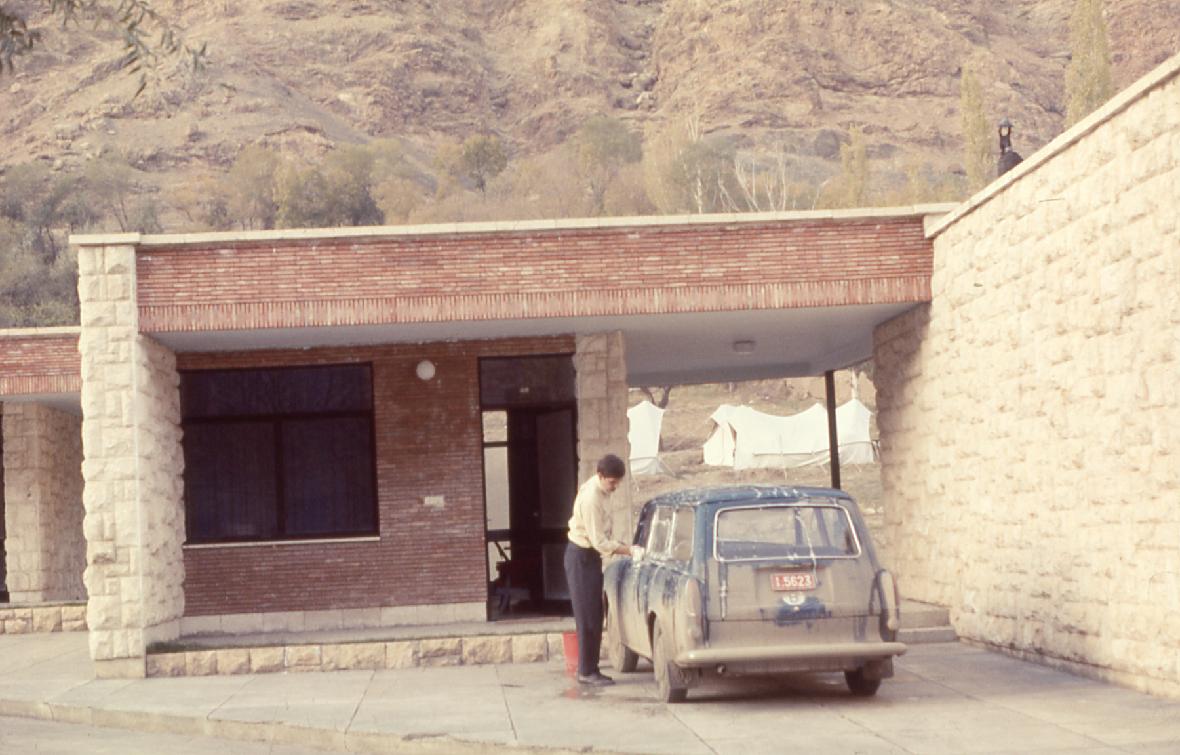 In Iran's capital of Tehran, we stayed with the family of one of my former Georgetown housemates, a very pro-Western family. They were able to explain to us the complexities of the Westernization of a proudly Muslim (although Shi'ite Muslim rather than Sunni Muslim) society, that also had not forgotten its origins as the ancient empire of Persia (the European West's constant enemy). And although where we were located in Tehran was fully modern, we were warned not to venture into the very traditional southern part of the city, where the hatred of Westerners ran deep.

It was at this point that we realized the delicacy of the cultural situation that America's close ally, the Shah, was dealing with. But (at the moment) he was generally very popular among his people, even out in the very conservative countryside. He had brought visible upgrading to the roads, city centers, schools, etc.

As a consequence, except for certain pockets of the country, we were well received as Westerners, in particular as Americans, especially since there seemed to be no others of that category around! Even here, we seemed to have this venture into the East all to ourselves!
Then we headed east across northwestern Iran. I would begin to see a lot of fortified villages ... a reminder of how violent life could be in that part of the world.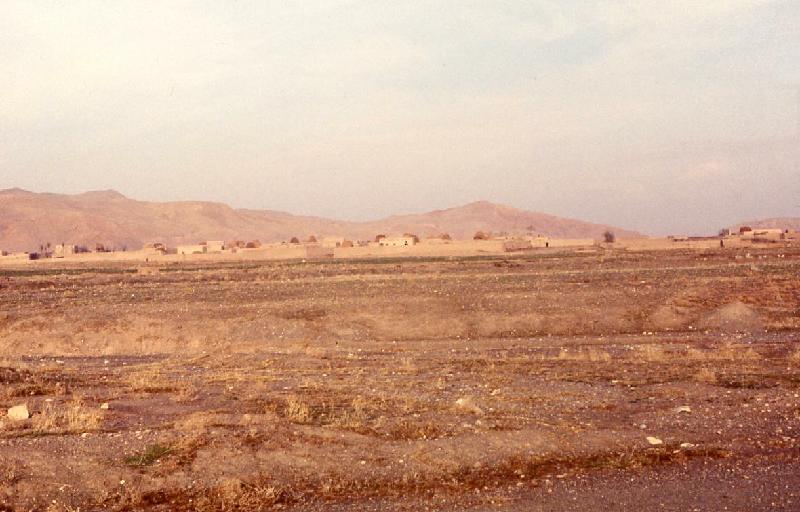 I realized also the risks Martha and I had embraced in taking on this trip. I was, of course, always apprehensive ... but never afraid. Indeed, what actually kept us going was a strange sense that there was some "unseen hand" on our lives ... something I would come to call "fortuna." I had long ago given up my Sunday School idea of God … but had not (not yet anyway) given up on the notion that somehow I enjoyed very peculiar protection. It allowed me to do things that held most people back.
Years later I would come to understand that this had always been the hand of God.
Eventually we arrived at the city of Tabriz in Iranian Azerbaijan ... where a Mr. Hararichi took us under his wing to show us around ... including a rug factory where a man was hand-weaving a very fancy (and thus probably very expensive) Iranian rug.
Then we headed on to Tehran, Iran's capital, where we stayed with the family of a former Iranian Georgetown housemate of mine. We were surprised to see how modern it was … at least the northern half of the city (thanks in part to the modernizing policies of the Shah). We were told to stay out of the Southern half of the city (militantly traditionalist Muslim), because the people there hated Westerners … and what Western culture had done to their Muslim world.
Then we headed north out Tehran, soon reaching the snowy Elburz mountains,
crossed them and then came down a very steep road on the other side ...
... to the Caspian Sea ... whose coast resembled greatly the coast of the Black Sea
Then we headed into Eastern Iran ... the bastion of Iranian-Muslim conservatism. Aware of this sensitivity of traditional Islam … we continued to move East cautiously … finally arriving at Mashhad, sort of the headquarters for this traditionalism.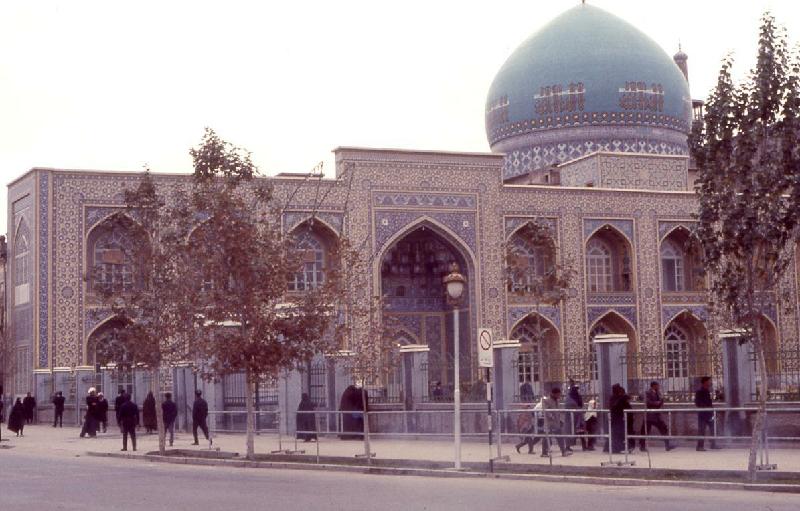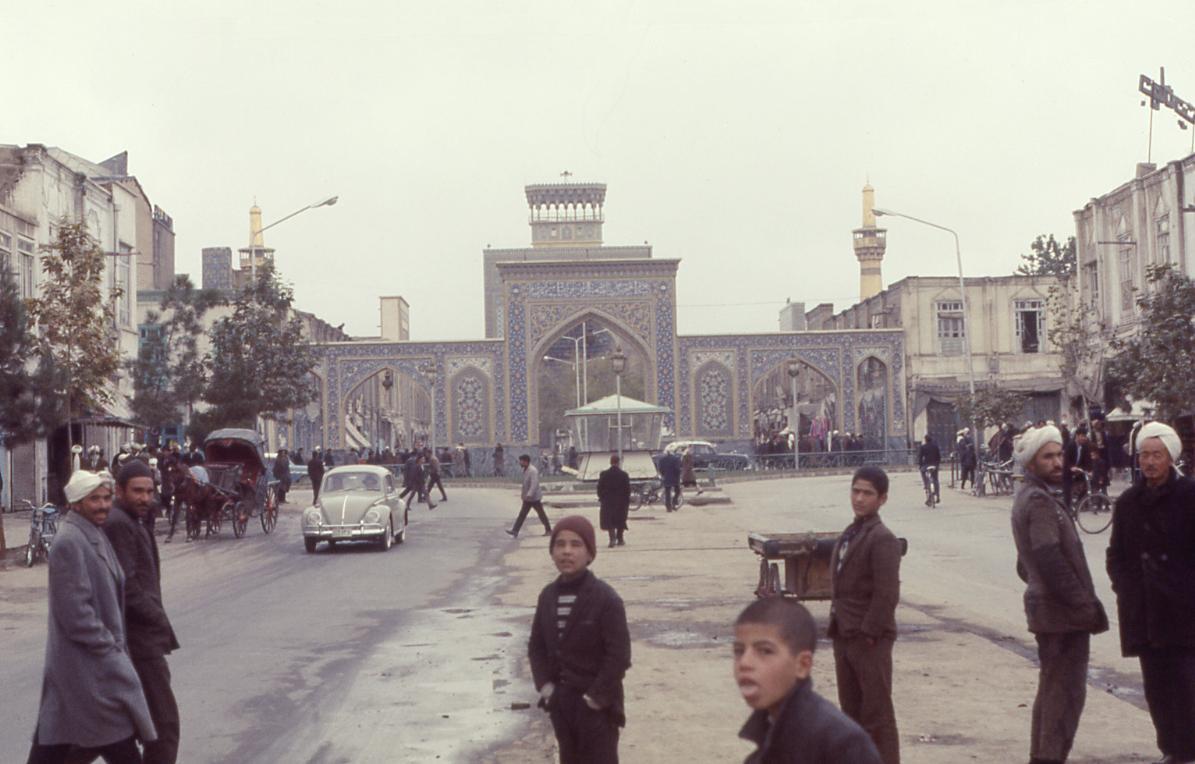 The very conservative city, Mashhad ... in Eastern Iran.
Notice the scarcity of women in public!
Martha was of course "uncovered" ... and we really stood out as strangers! A group of people took an interest in us when one of them was able to converse with us at a restaurant. I don't remember in what language, because French or German were just as likely as English to be known in this part of the world. Actually the likelihood of any of those languages being spoken in Mashhad was slight!
The remoteness of Eastern Iran ... as most everywhere in central Asia
At this point our roads grew very challenging!
---

When we got to the Iran-Afghan border, our car got bogged down in the mud in the five-mile stretch of no-man's land between the two countries. We were finally able to get a group of Afghan soldiers sent to get our car out of its mess. Then we had to spend the night at the Afghan border sleeping in the car.

Early the next morning we were asked to take on an Afghan traveler, who had run out of travel funds, had managed to get to the Afghan border – and needed to get into Herat, where he could then continue on his own. We were told that he was head of the country's Chamber of Commerce. Yeah, right – as if we were stupid enough to believe such a fishy story! But we took him on anyway.

When we got to Herat, we took him to the airport, where he took a flight onward to Kabul. And indeed, we knew by that time (he spoke excellent German) that he was indeed what he claimed to be. Before he departed, he invited us to look him up when we got to Kabul.

The drive the rest of the way across Afghanistan was peaceful and largely uneventful, almost anyway. It was at one part of the road that we passed a group of men along the road, waving their hands wildly at us. We thought that was very friendly, until (at 100 kilometers an hour) we went sailing into a crude iron pipe poised across the road, to stop travelers (few of whom were actually on the road) so that they could collect "passage" money from them. Thankfully the bar merely creased the upper left portion of the car. Had it been a few inches lower, it would have taken off my head. As these guys came running up, I was furious. I pointed out the glass lying about. Obviously, we were not the first ones to have experienced this misadventure. They shrugged their shoulders, and we continued on. We would have to have the car repaired in Kabul.

We were rather shaken by the experience, even though it was not the first time that strange (and dangerous) things had come our way. Nor would it be the last of such episodes either.

But after all, we had willingly, gladly actually, undertaken an adventure that everyone back home thought qualified us as being totally insane. Where we were going was uncharted territory. And indeed, we took on each day with no way of knowing how things would turn out for us that day. But that's just who we were, adventurers.

I mention this particular episode because of how it led to other amazing things. When we reached Kabul on the other side of the country, we took a few days to enjoy its interesting primitiveness. And then, with the car repaired, we found ourselves ready to move on into Pakistan. But in the meantime, we were advised not to do so just yet, but to wait until a violent uprising going on just across the border in Pakistan had a chance to settle down (this area was "Pakistan" only on the map, but actually a very, very independent-minded Pashtun region). We took the advice. A British couple we met in Kabul did not, and soon returned with their car badly damaged and one of them badly bruised and cut up. We knew we were therefore going to be in Kabul for a while.

At this point we decided to take up the invitation to visit our Afghan Chamber of Commerce friend, Muhammad, and sent word to him where we were staying. Finally, a hotel clerk came to our room to tell us that someone waited for us in the lobby. But when I went down all I saw there was someone who was obviously an Englishman, by his very dress and demeanor. But wouldn't you know it was his nephew, Nasir, who indeed was an architect, schooled at the University of London and well-experienced in the field in England itself. We would spend the next days (a week really) with him, and friends.

Indeed, it was nearing the end of November, and Nasir's brother and family invited us to their home to help us celebrate our American Thanksgiving holiday. What a wonderfully gracious family they were. And it turned out also that he was the country's leading surgeon, who had trained in the field in Houston under the direction of the famous heart surgeon, Denton Cooley! Wow!

But the "wow" did not stop there. We even got an invitation to a fashion show put on by the Afghan Queen, and found ourselves in the most amazing company in the process.

Even after we moved on, we would keep close contact with our Afghan friends, for a number of years anyway, when several moves and changes later in our lives broke the lines of communications. Then when I heard that Soviet-backed "reformers" had taken over the country in 1978, producing a civil war that killed thousands, among them numerous Westernized Afghans, a deep chill hit me. I feared that this statistic most likely included our once-close Afghan friends.
Afghanistan
Then arriving at the Iranian-Afghan border ... we got hopelessly bogged down along the 3-to-4-mile-long "no-man's-land" between the two borders.

The next morning we met the president of the Afghan Chamber of Commerce, Mohammed Saleh (actually giving him a ride into Herat) ... and then later enjoying a Thanksgiving meal with his relatives in Kabul (a surgeon who had trained in Houston and his family), attending a reception and dinner put on by Afghan's king and queen, and just hanging out with Mohammed's nephew, Nasir (a London-trained architect).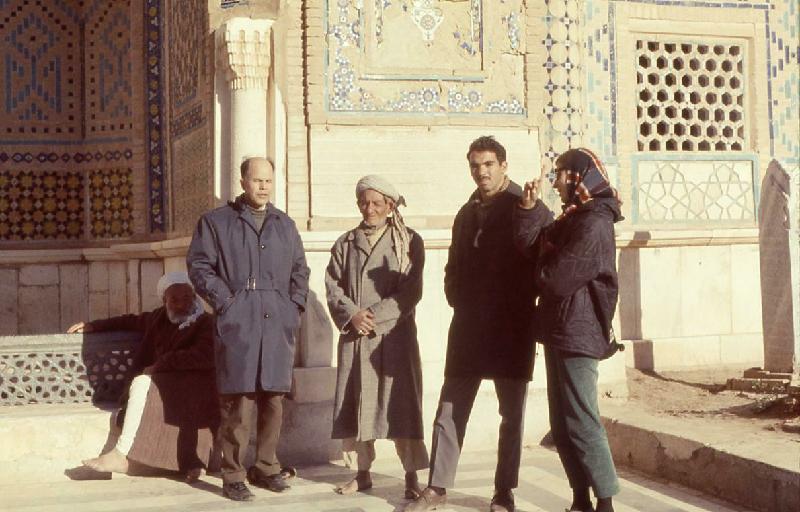 With Mohammed in Herat
In Kabul with Nasir and an Indian musician / Martha decked out in an Afghan burka!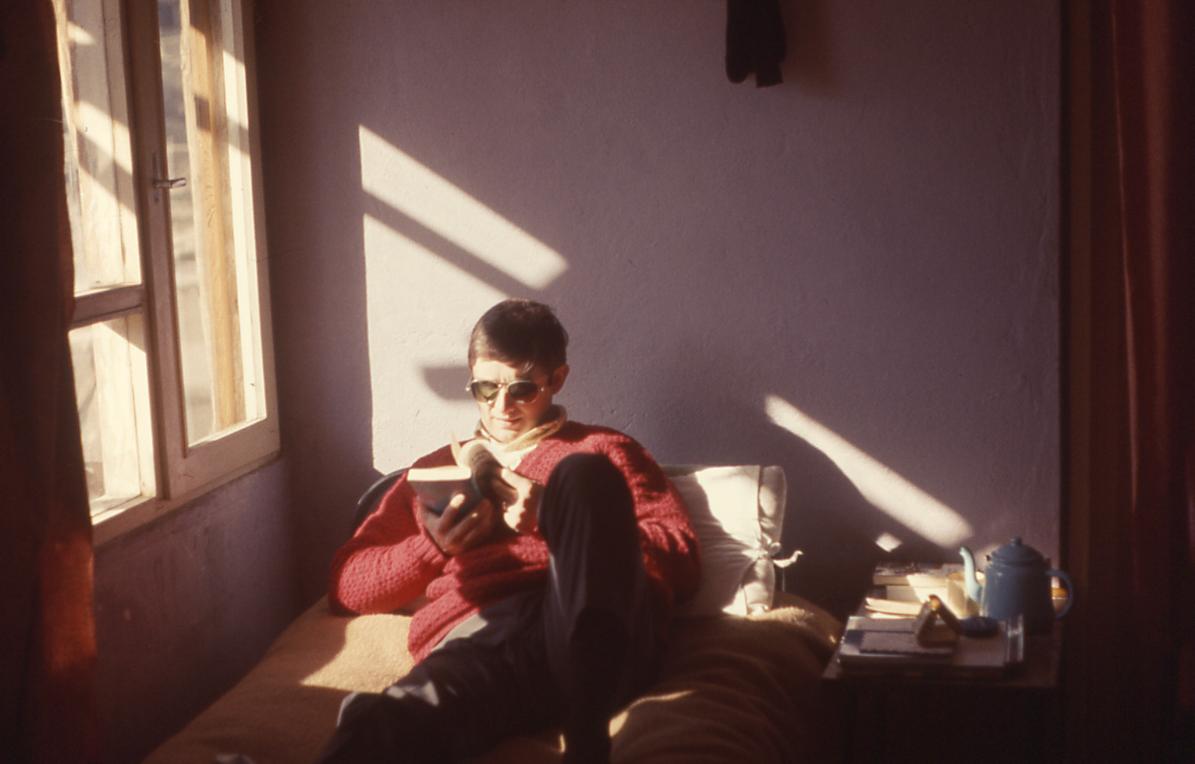 Here I am relaxing in our hotel room in Kabul.
As we drove toward the Khyber Pass, we found ourselves in major Pashtun territory ... a rather violent land where people lived behind high walls and men ventured forth only if well-armed.
---

Finally we headed south through the famous Khyber Pass and descended down into Pakistan, a land full of people and animals crowded into the country's living spaces. The situation was so tight, the roads so crowded that they were almost impassable, that finally we left our car in Pakistan and headed on into India by train, making the mistake of buying cheap 3rd-class tickets for an overnight journey. We could barely breathe, the train was so crammed with people. The next morning we switched to the 2nd-class, but soon discovered that Indians had the habit of invading the 2nd-class cars when the 3rd-class car could take on not another individual. We finally decided to go 1st-class, which turned out to be not very expensive, and an excellent way to meet very interesting individuals.

We finally arrived in New Delhi, and settled in there for over a week, right off of the very Victorian Connaught Circus. There was so much to see and do there. At first we loved the food dearly, until we finally tired of one curried meal after another (even a fruit dish was curried), and found that the American Embassy opened its restaurant on Friday noons for Westerners (not many actually) to come there to buy hamburgers and shakes! Otherwise we had something of a wonderful love affair with India.

India was such a contrast, of elegance in its historical sites and poverty in the streets. And India, like Pakistan, was a very crowded country. I had no idea of how India could possibly continue to expand its population (actually at the time, it had only half the population that it does today!)

But I admired the way the Indians went at life. Poverty did not mean misery. It only meant going at life in a simpler way. I remember sitting at a window at a railroad station's restaurant gazing out at the yard below me, where a woman was seated on the ground, assembling a small fire of cow "chips" to prepare a meal for her small children frolicking around the yard. There was an amazing "completeness" about the scene. She was doing what she knew to do to push on in life, and the kids seemed perfectly happy with the life they were delivered.

It was at that point that it dawned on me that life simply calls on us to find ways to accommodate ourselves to it, as so many of our own American ancestors had done in the wilds of America. It was not our job to push life into a well-ordered box, although that seemed to be our goal in life these days, at least in my well-ordered American world. And in finding ourselves in such a well-padded box, we seemed to spend a great deal of time looking over our shoulders at life, afraid of what might happen to us if we were forced to live outside that box. So we did everything in our power to make our box even more secure.

Yet, there in India was grand elegance, splendid reminders of that at Delhi's Red Fort, where the palaces were breath-taking with their marble work detailed with semi-precious gems and their hand-cut marble screens.

It led me to inquire more deeply into the story of the Mogul dynasty that had built this splendid work (including the Taj Mahal which we would later visit), of the family's rise, its dominance – then its decay and ultimately its fall.

I would never forget this. It would later become the inspiration for my "four generations theory" – of the typical rise and fall of most all societies (at some point in their existence) – eventually presented in my university course work, and in my recent publications on American history.

And, of course, we just had to make our way to Varanasi (old Benares), a "holy city" (both Hindu and Buddhist) located along the banks of the great Ganges River. There we found Hindu temples, even Muslim mosques, and Mogul palaces alongside common homes and shops, as well as the great Buddhist shrine at nearby Sarnath. We watched Indians coming to the water to bathe in the holy waters and to offer floral wreaths in thanksgiving for some event in their lives. We saw Indian dobymen washing the people's clothing, just upstream from where the dead were being burned at the river's edge and their ashes scattered into the holy waters of the Ganges. We saw semi-naked holy men at prayer. We saw sacred cows wandering the streets, not to be touched, even to be pushed away from food stands where they munched away on the produce offered there. We passed religious processions in the streets, etc., etc., etc. It was so unlike anything you were likely to run into in America (even a monkey visiting us through an open window as we took breakfast at our hotel!)



There was no practical way to get to Kathmandu, Nepal's capital, except by flight. So we had the privilege – and the glory – of flying over the foothills of the Himalayan Mountains. And we arrived in a world that still belonged to an age several centuries ago. It was primitive in a medieval sort of way, and also glorious in that primitiveness.

However, It was not until we got to Nepal that we also encountered the craziness that we had left behind in America. In Kathmandu you would periodically run into some sunken-eyed Westerner who would finally remember that his or her body needed something besides the inexpensive and readily available opium to sustain it. They would occasionally drag themselves to the local Chinese restaurant to get some cheap food before disappearing again into some hellhole to continue their drugged existences. Periodically they would be flown out of Nepal in body bags. Such a dismal end for people who had come so far to "find themselves."



We flew back to India and arrived at a still-quite-Victorian Bombay (the future "Mumbai") just in time for Christmas. It was strange to note that Hindus found ample reason to celebrate Christmas, in a very typical Indian way – with bright colors everywhere, music blaring out onto the streets, and the people parading everywhere, happy to be caught up in the event.

All of this obviously had no connection whatsoever with the Christmas I was familiar with. But for me at the time, Christmas anyway was just a beautiful family holiday on the calendar, to be celebrated for whatever purpose and by whatever manner you chose to do so. Beyond that it had no particular meaning. (I was not anti-Christian at the time. Just not part of that religious world).
Pakistan, India and Nepal
Then we went through the Khyber Pass (major Taliban territory today) … down into the crowded streets of Pakistan … where we left the car and continued on into India by train!
Then we spent the next month in India …
seeing the ancient and the modern (mostly the ancient!) side by side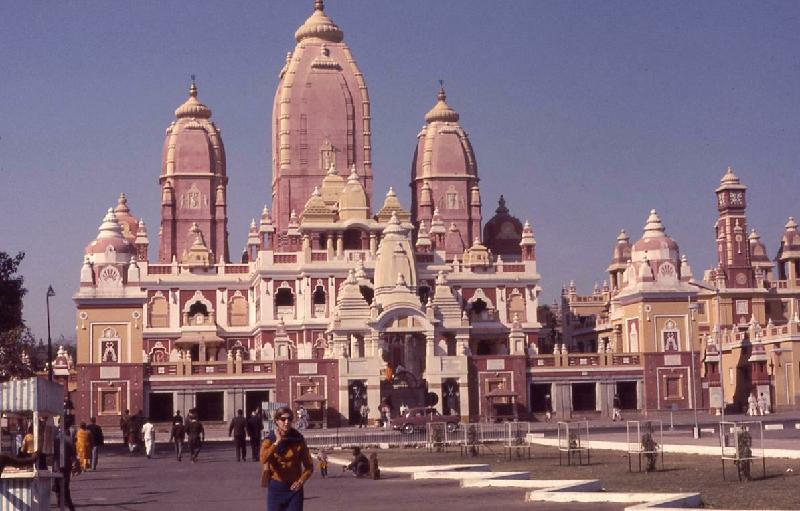 Delhi's Temple dedicated to the goddess Lakshmi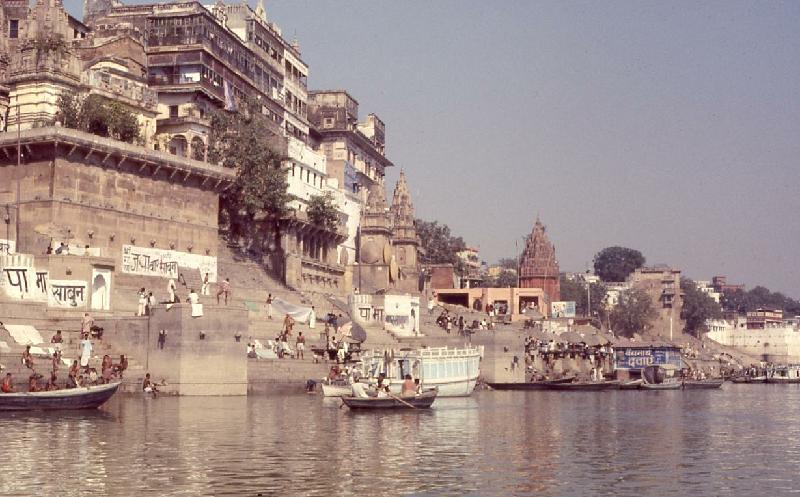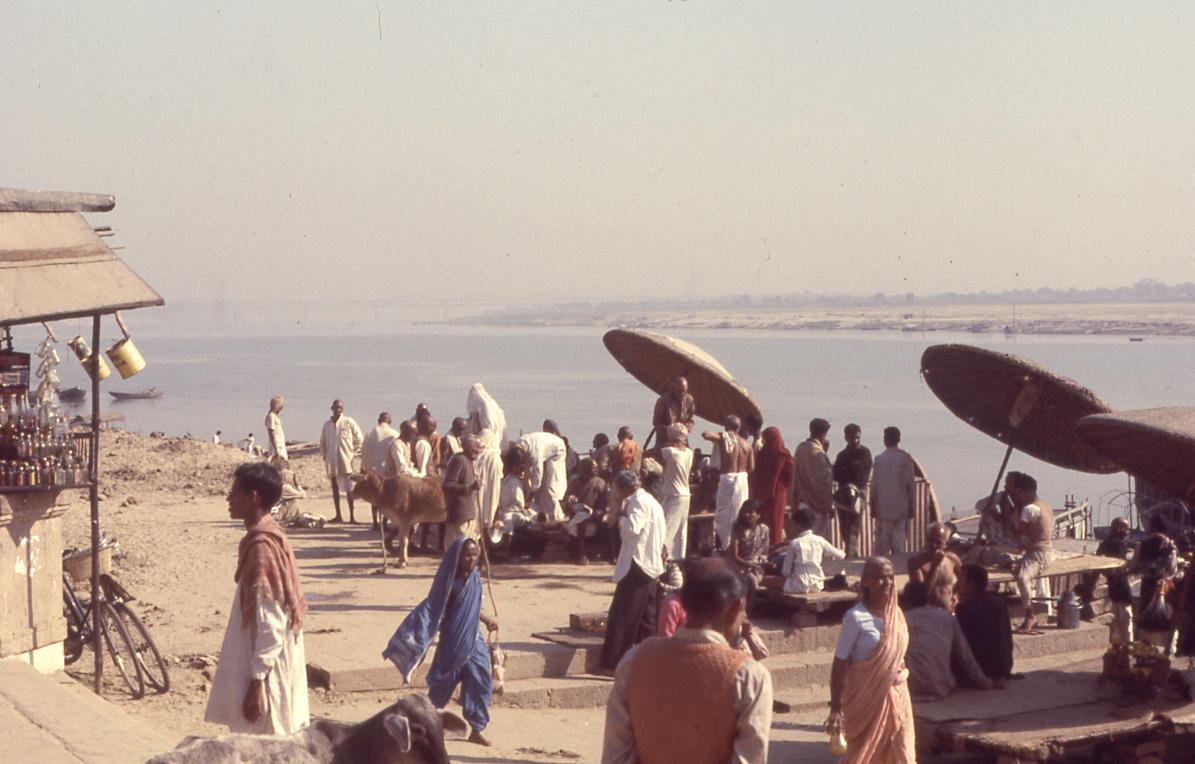 Along the Ganges River at Benares
The crowded streets of Benares / the Buddhist holy site at Sarnath (nearby)
---
We then flew across the foothills of the Himalayan Mountains to Nepal's capital, Katmandu, and nearby religious center of Patan … where we felt as if we had stepped back several centuries in time.
We then returned to India for another month of travel.
---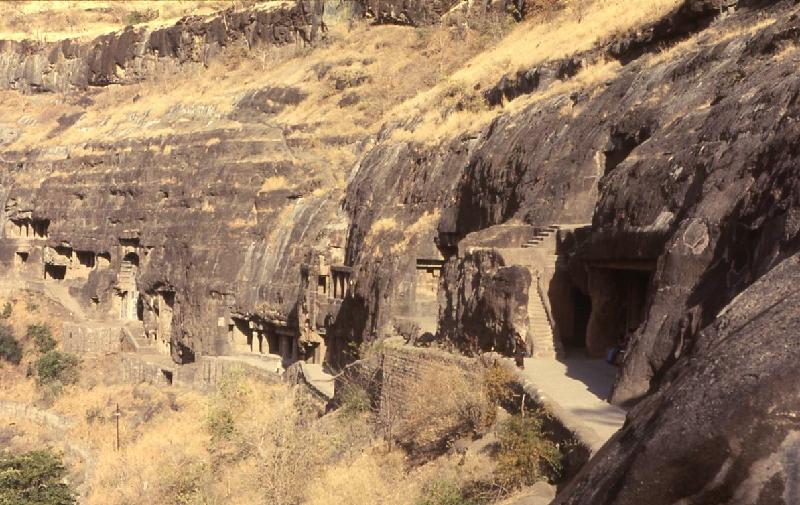 The Buddhist Ajunta caves
In Bombay (today's Mumbai) we encountered not only remaining elements of Victorian or British India … but an old friend Deepak (at this point a professor at the University of Poona) … who also introduced us to India's famous movie industry.
A still quite Victorian Bombay (at that time)
We spent a good deal of time with an old friend, Deepak, who was at that point a professor at the University of Baroda, India's sort of "Harvard." He was now happily married, with children. We spent time together just relaxing, taking meals along the Indian Ocean, visiting the ancient Buddhist Elephanta Caves, and visiting a Bombay movie set where they were filming one of India's many productions.

Deepak was the picture of happiness, especially in his marriage with Purnima, a marriage arranged by his family of course. I remember when he got "the letter" commanding him to return from St. Louis (he was attending Washington University the same time as my father) to Bombay. As a majorly free spirit at the time, he knew exactly what his father's intentions were, to end that freedom with a proper marriage.

He explained to me that his father at least had offered him not one but three candidates. He looked over their resumés (!) and announced that he would start with Purnima. And after a single date with her, he told his father that he would not need to check out the other two candidates. Purnima was an excellent choice – beautiful, well-educated, a skilled dancing teacher, and of very good family. Indeed, Deepak could not say enough positive things about the wisdom of the way marriages were "arranged" in India. I suppose he had a point!
Fun with my old friend Deepak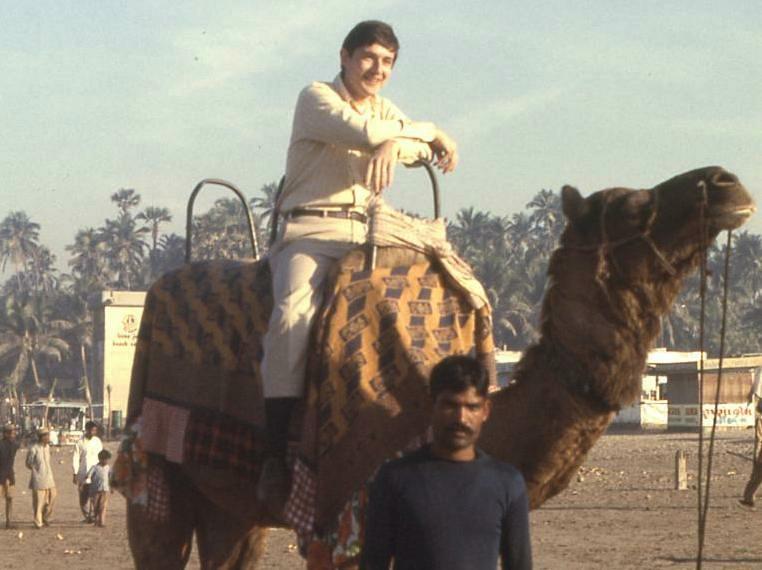 We visited a place where they were filming an Indian movie ...

and of course we visited more of the requisite historical sites (there being many in India!)
The famous Taj Mahal at Agra ... once the center of Mughal imperial power
The luxurious Agra Red Fort and palaces
---
Finally in late January we began our trip back to Belgium

I think that part of the reason for both my expatriate existence – and my decision to include Asia as part of that experience was a sense that I would find some of that "transcendence" that my soul craved so much: a sense of sharing in some of the "wisdom" of countless generations that went before us. I wanted to plant my personal soul in some of that antiquity.

But in any case, it was time to get back to "reality." I had a dissertation to write, and the need to find employment back in Belgium, where we planned to establish ourselves for the immediate future.



In the course of the trip I began slowly to develop that rising sense of some unseen hand surrounding and protecting Martha and me during all this venture into the unknown. Things that had been happening along the way seemed to me to be much more than mere coincidence. And it certainly was more – much more – than just good luck. This "hand" not only had an invaluable presence, it seemed to have some larger purpose behind that presence. Slowly this "hand" began to take for me identity simply as

Fortuna

.

I certainly would never have called this Fortuna "God," for this in no way conformed to my Sunday School teaching about the nature of God. But nonetheless, I did have a keen sense of the outside support of some kind of mysterious force. The very decision to head East across Asia with only the crudest of maps available to guide me and no sense of what I would do if breakdowns or banditry or sickness or something should afflict me – this was possible for me only because I had this strong sense of Fortuna.

Most importantly, in very life-and-death moments, this hand of Fortuna came through for us, when we were in desperate need of assistance. A couple of the most dramatic instances occurred on the trip back from India to Europe.



One such instance occurred when I lost my way from the road (path) through the Baluchi Desert, for the road was drifted over constantly by shifting sand. At one point, I found myself hopelessly mired down in sand in the middle of the Baluchi Desert. I could not dig myself out.

I feared being stranded out there, for in such a defenseless plight Martha and I were perfect targets for murderous thieves. But as I got out of the car to consider my situation, I looked up, and – wonder of wonders – saw two men working off in the distance. They saw our plight, and came up to help us get ourselves dug out and redirected back on the road (which they had been working on).

How odd it all was, since they had been the only people I had seen all morning along the road (it was just desert after all!). And I had passed very few cars or trucks since heading out that morning. Yet there they were a few hundred yards off to help us! (angels in disguise?)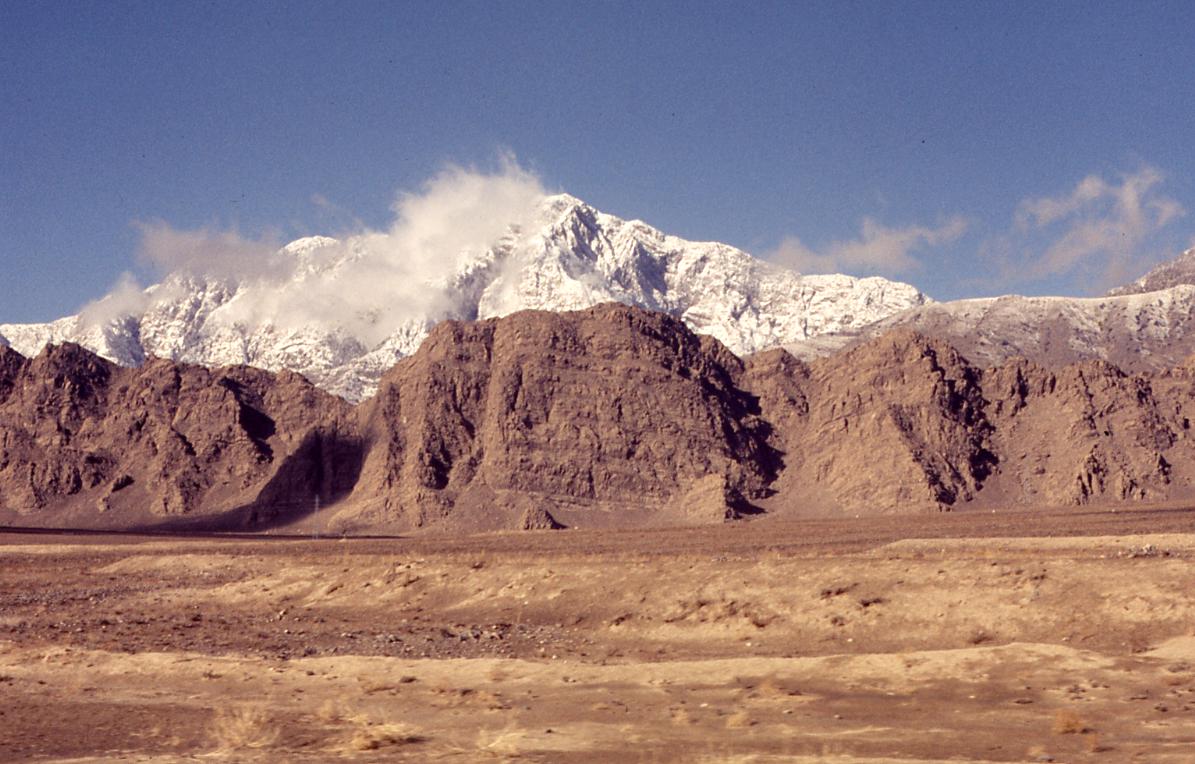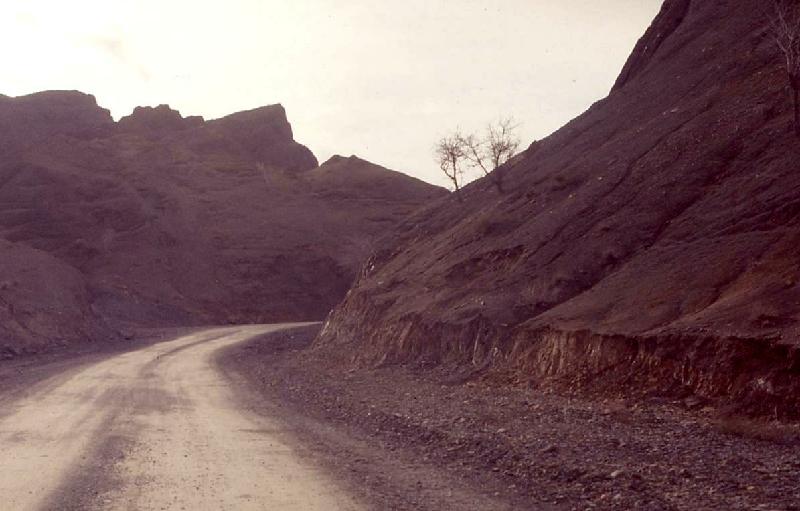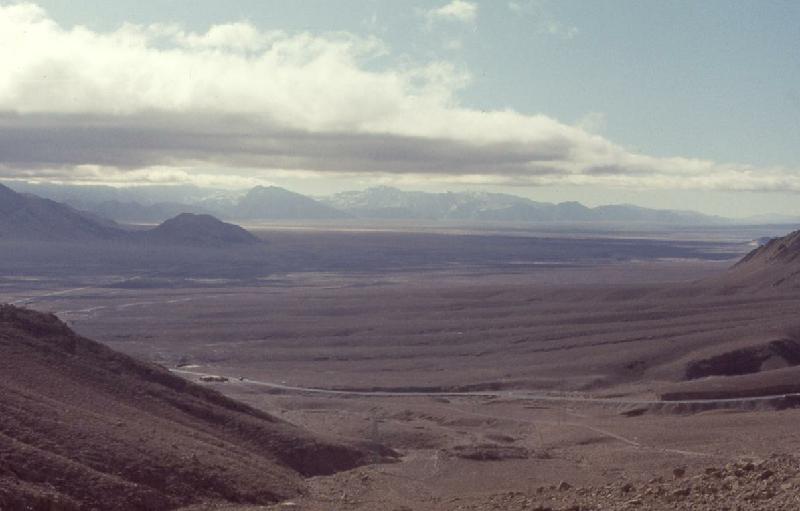 ... this time a very grueling trip because we went across the Baluchi Desert (where Alexander lost much of his army on his return West from India). We get bogged down in a sand drift ... only to find two road workers a hundred yards off, able to get us back on the "road." Interesting, because these were about the only people we saw that day. Angels?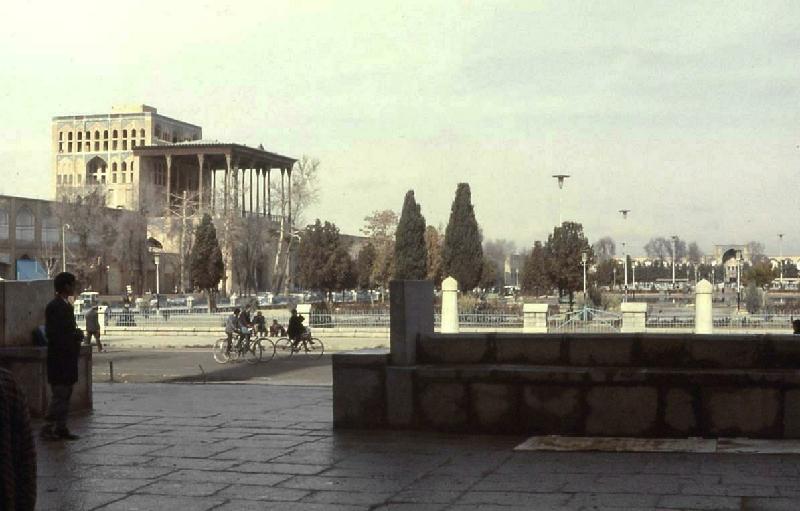 We get a short break from the bad roads and snow when we come to Isfahan (Iran), the old royal capital ... with the Ali Kapu Palace and Bazaar.
The Iranian-Turkish border town / The road as we start out
The wintry heights of Turkish Armenia

Another such instance occurred a short time later as the car climbed the snow-covered road to the top of Turkey's Armenian Mountains.

Constant snow storms had killed 14 people in those mountains the previous week. And arriving at the Iran-Turkey border, we learned that the border authorities were about to close the main road across those mountains, the road that would bring us to Erzurum in Turkey on the other side of the mountain chain. The next morning, I pleaded with the authorities to let us pass on ahead, as we were running out of money. And everyone was aware that once closed, the border would not be reopened for months. They finally relented and let us proceed.

And so there we were, heading up along a heavily snow-covered road with conditions worsening with each mile. Then it happened: we got hopelessly stranded in a huge snow drift which effectively blocked the road ahead, and prevented us from even being able to turn around and head back to where we had started from. We unloaded everything we were packing, in order to lighten the car. But it proved to be to no avail. We were stuck – completely stuck – with snow coming down heavily around us. And there was no prospect of help, as we had seen no one on the road since we left the border. At that point we realized that we were thus destined to become statistics added to the number who had died from this horrible snow storm.

Then miraculously a truck full of Turks appeared out of the snowy haze. Thankfully they were determined to help, rather than take advantage of our hopeless situation. They dug us out of the drift and then swung in front of us so that the truck blasted its way through the drifts before us, plowing a path for us through the mountainous heights. And then when we came down on the other side, to more drivable conditions, they drove off. (More angels in disguise?)
By the time we reach an equally somber Istanbul, we are completely exhausted.
Finally in mid-February we arrived at our European destination … Brussels where I planned to research and write my doctoral dissertation on Belgian language issues ... and Belgian political leadership trying to move the country ahead in the face of linguistic divisions.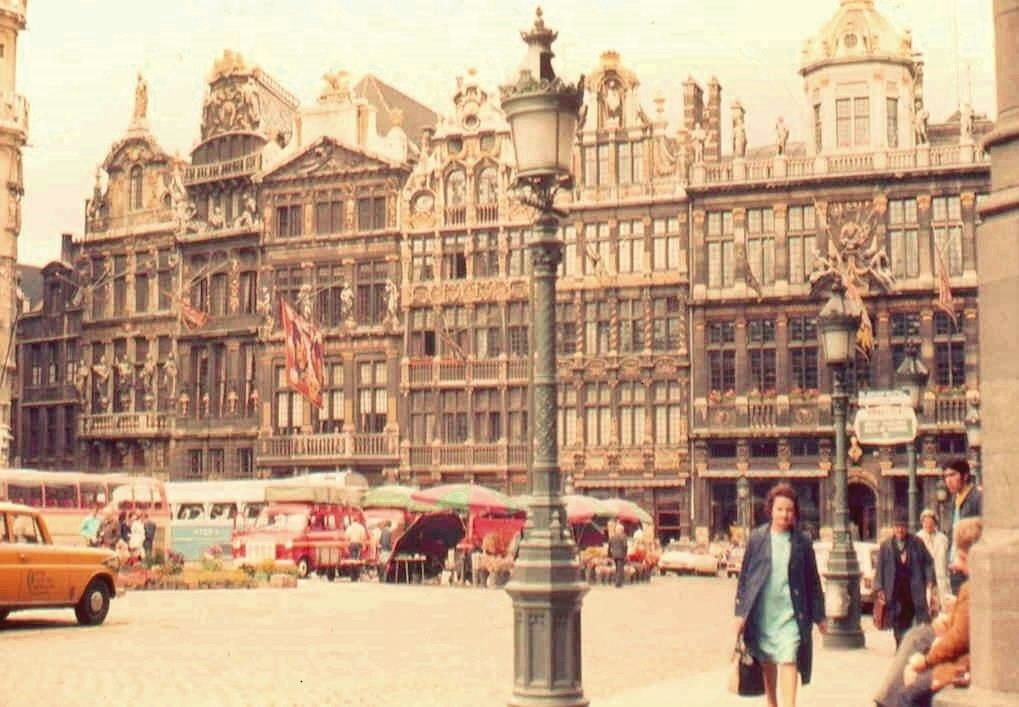 Looking for work in Belgium

Upon our return to Brussels in February (now the year 1969), we faced the immediate problem of finding work – for we had indeed spent all of our money in those six months of wandering.

I had been warned in Washington by the Belgian consul that getting a job in Belgium would be an impossibility, as work visas were virtually unattainable. But I was not one to let such details slow me up. I had received considerable training in Washington in computer programming, and once in Brussels I went from American corporation to American corporation located there in search of employment as a computer programmer. In the meantime, Martha found a job teaching English at a language school – paid under the table of course!

But I was turned down in interview after interview – not because they did not want to hire me, but because they knew there was no way they were going to be able to get me a work visa. The Belgian government wanted to place Belgians in this newly opening field of computer programming. I grew discouraged after about the 10th similar interview outcome.


Fortuna

comes to our aid again, and again!

Being discouraged by this was something new to me. I would never have thought simply to arrive on the scene in Belgium to begin looking for a job if I had not had this sense of this mysterious Fortuna being "with me." But now it seemed to be failing me.



And then IBM-Belgium contacted me! They had heard I was interviewing, and wanted to know if I would be willing to be interviewed by them! As it turned out, they desperately needed a programmer/analyst who could work directly with their new American customers in Brussels in developing customized computer operations. Their Belgian staff were having difficulties with the subtleties of American business language. They badly needed an American to bridge that gap. Therefore I was exactly what they needed. And not to worry about the visa. They could get one granted on the basis that I possessed skills (native English-speaker) that they could not get from a Belgian national. I was hired on the spot!



Fortuna

had come through for me again!

At about this time Martha was hired by an English-speaking Catholic school in Brussels – and we were on easy street! Indeed,

Fortuna

was busy for us both!

I enjoyed the work immensely. And I had the great satisfaction of being able to solve some programming problems that had some of the other IBM technicians stumped. And I was able to work closely with both Toyota and Ampex offices in Belgium.

But any thought of being able to work for IBM and at the same time press forward on my doctoral research was soon dispelled. IBM left me little time and energy for such an enterprise. I simply had nothing left of me by the evening energy-wise, nothing able to undertake the rigors of doctoral research.

But by the fall,

Fortuna

performed yet another miracle for us when Martha got an even better job teaching at the American military school in Brussels. We could live easily (even splendidly) on her salary alone. So I resigned from my job with IBM and turned my attention to my doctoral work. Life was good. No, it was perfect!
We soon found an apartment just in time to receive a visit from Val
– and Courtney's cousin Jane. At that point, furnishings were scarce!
However, we eventually got settled in quite comfortably!
Welcome to our apartment building!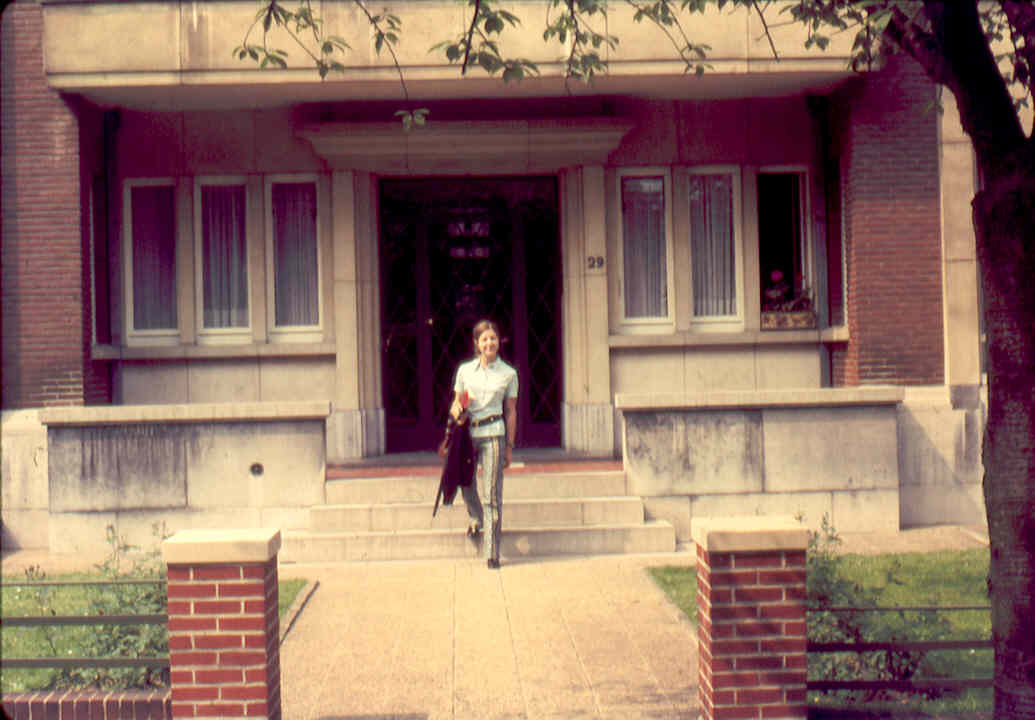 We loved to sit on our balcony ...
and look out on our neighborhood (Ixelles or southern Brussels)
Avenue du Derby ... from our balcony
very spectacular when the cherry blossoms bloomed
On this basis we quickly made ourselves at home in Belgium

It was an active time socially. We received visits frequently from our families, and both Val and Courtney's cousin (also a former roommate of Martha's) came to visit.

And of course, I met a number of young Belgian professionals through my IBM days, and for the year and a half we were Belgian residents, we remained close to them – especially our Walloon (French-speaking) friends, Pierre and Anne, and our Flemish (Dutch-speaking) friend, Victor. Indeed, Victor became like another brother to me.

At Martha's school we became close friends of a number of American teachers, expatriates and adventurers like ourselves and most like my German friends in Geneva – in their tendency to travel forth at every opportunity. We did a lot of traveling with them.

And I met two Americans (from Tulane University in New Orleans) who were, like me, researching their doctoral dissertations at the Royal Library in Brussels: Bob and Newt. We established the almost daily habit of having three-hour lunches over beers at a nearby cafe, designing solutions to the problems of America, and the world!4

All in all, Martha and I found that our Belgian life was every bit as stimulating as the life I once knew in Geneva.


---
4Newt would have the opportunity to put those thoughts to action. After teaching college in Georgia, he ran for the U.S. House of Representatives, was elected, and quickly rose in the ranks of the Republican Party, eventually becoming House Speaker, and the force behind the "Republican Party Revolution" of 1994!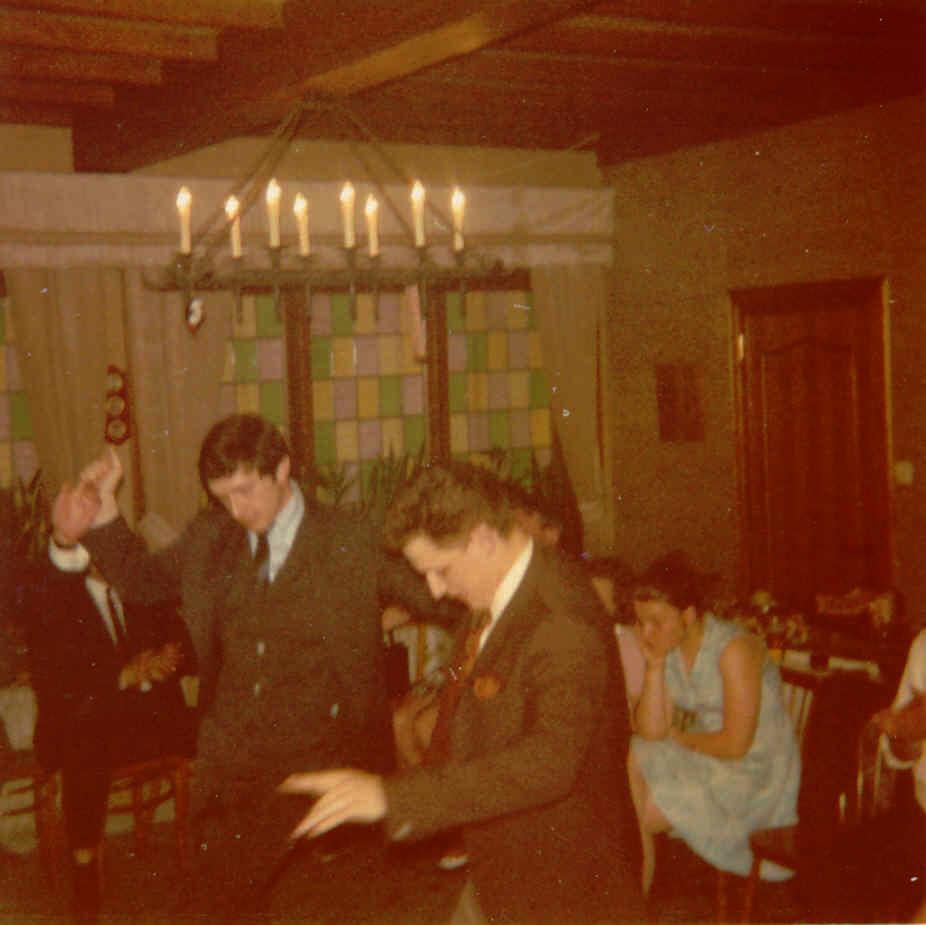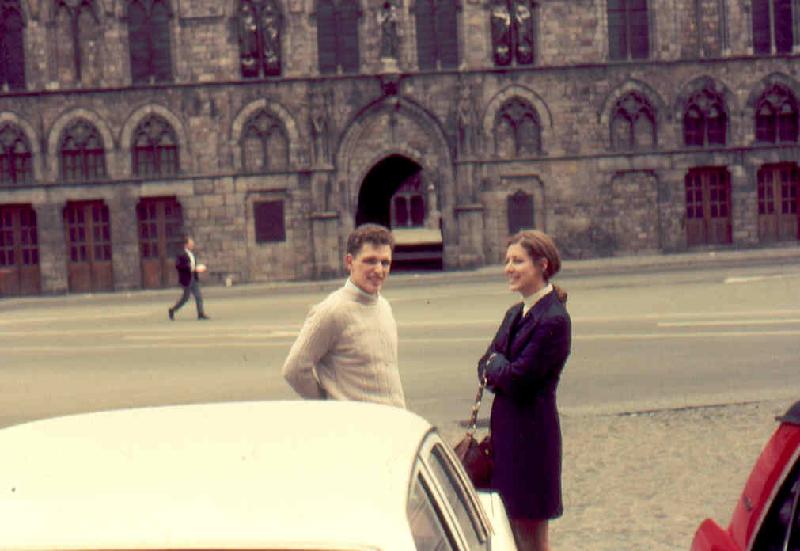 Doing the Greek hasapiko dance with Victor and family ... at his home in Halle
... and visiting Ypres with him
He was a Flemish Belgian ... also something like a brother to me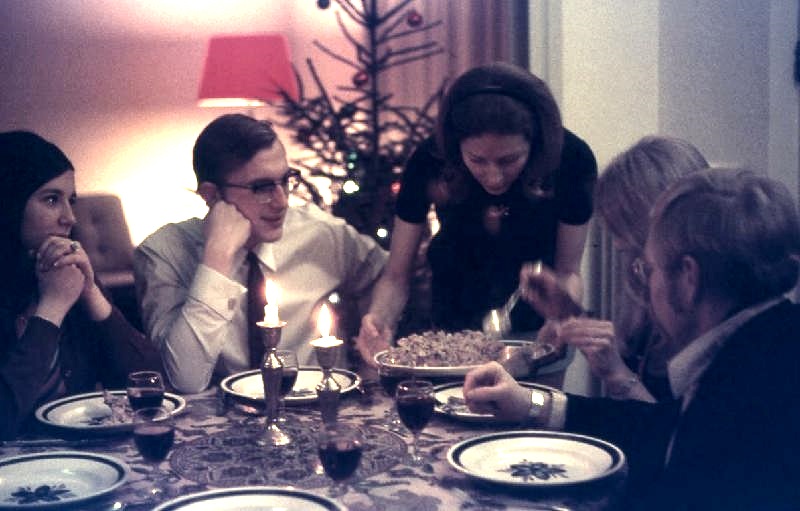 Dinner with Belgian (French-speaking Walloons) and American friends
Pierre and Anne / Ben and Ann (lots of Anns!)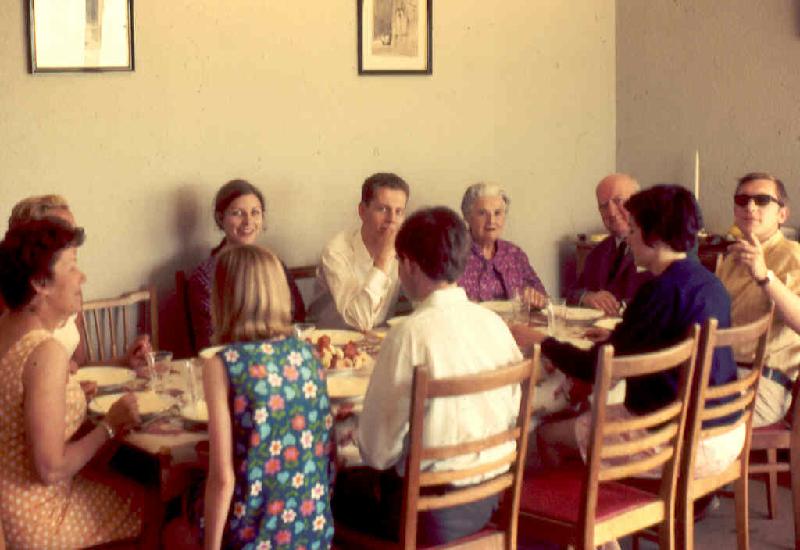 In Liège with Pierre and Anne and family
Being invited into the homes of our Belgian friends ... was like being accepted into family ... a great honor!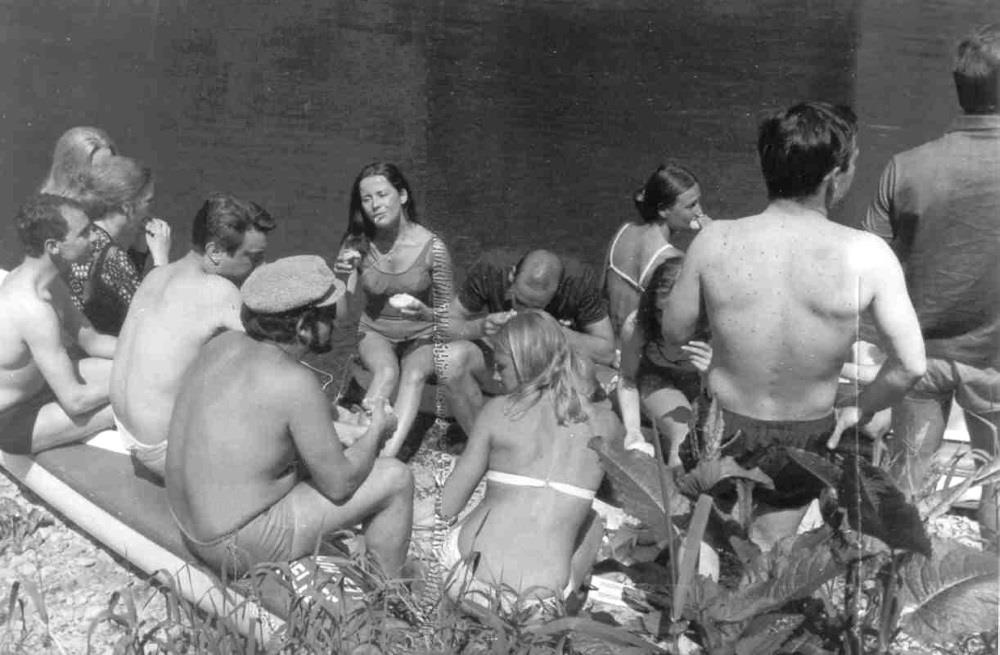 On a canoe trip in the Ardennes Forest with Belgian friends
But IBM drained all my energy daily … and I was making no progress on my dissertation. Then finally with Martha's job at the American military school, we could then easily live off her salary alone.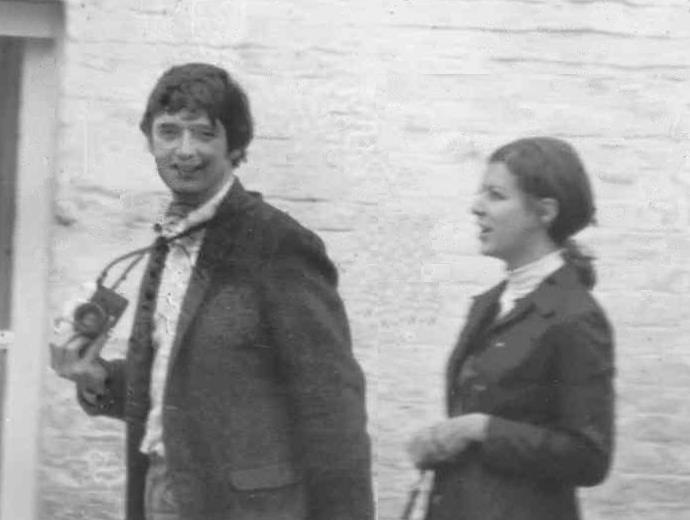 I quit IBM (to their great surprise) after 9 months and headed off to the Brussels library to begin my research … and that first day met two grad students from Tulane University (New Orleans) also doing doctoral research: Bob Sanders and Newt Gingrich. We would become close friends … taking long lunches together … and discussing the problems of the world … but especially those going on back in America.
Bob Sanders and his Danish wife Ann Newt Gingrich

Belgium itself was beautiful ... and we did a lot of touring the area. We spent a lot of time in London as well ... and traveled to Paris a couple of times.
Here we are in Bruges / Brugge (depending on French or Flemish pronunciation!)

Researching "identity politics"

Multiculturalism had become for me a matter of supreme interest. Of course that summer of 1960 traveling through Europe and discovering the wonder of many different cultures – and the discovery, by way of contrast, of how very American I was – constituted the huge startup of this interest. And my 1961-1962 school year in Geneva had only taken that interest deeper. And my research on multicultural South Africa (1964-1965) had pushed me to ask questions now of what politically this could mean to a society. And my trip across Asia had stretched my familiarity with multiculturalism beyond even the realm of Western culture itself.

And so now I was in Brussels, Belgium, taking up the matter as serious doctoral research, trying to understand the political-social implications of Belgium being a society separated deeply by the language line of Dutch-speaking Flemish in the north and French-speaking Walloons in the south.

At one time (the 1800s, when the country was formed) Belgium had been more or less unified by the fact that the country's political elite, even in the Flemish North, were fluent in French, as French was the language that the upper classes of Europe expected everyone to operate in.

But the nationalist impulse unleashed by World War One, and the German occupation of Belgium during that war, had encouraged a reaction by the Flemish (Dutch is after all merely another German dialect) against the country's francophones (those who speak French). And World War Two and another German occupation had not softened Belgium's cultural animosities either.


The challenges – and dangers – of multiculturalism

In any case, I was very aware of how much language shaped, defined, and directed culture, especially in this age of nationalism. Language is the means by which a society's dreams, its understandings, its plans are conveyed to the people. It is very, very hard to sign onto a society's cultural doings if you do not speak the language of that culture.

Yes, I am well aware that Liberals somehow believe that multiculturalism is a blessing to a society because it promotes "diversity" and diversity supports "freedom." At least it is supposed to do so in theory.

Actually I never saw that to be the case out there in the real world. In all my research into the dynamics of multiculturalism I came to understand quite clearly that multiculturalism was not a natural blessing. Instead, it was a very dangerous challenge – one that had to find some kind of larger solution to it, before it tore a society to pieces. The American Civil War presented a clear example of just those dangers. So did the Russian and Chinese Revolutions. So also did Gandhi's revolution in India, which set Indian Hindus against Indian Muslims and against Indian Sikhs – even destroying Gandhi in the process. The world around me gave constant witness to that truth. And it would continue to do so in the future.



But what about Switzerland? Wasn't it multicultural, with parts of the country speaking French, parts speaking German, parts speaking Italian, and other parts speaking variants of an ancient Latin form called "Romansh"? Wasn't it a multicultural society, seemingly always found in a constant state of peace?

The answer to that, as I well knew personally, was "yes." But I also knew why, and it had nothing to do with the Swiss fashioning themselves into some kind of higher species, able to operate in the upper atmosphere of Liberal enlightenment.

The Swiss were in fact a very down-to-earth or socially practical people, who had created a multi-cultural confederation of 26 very self-sufficient cantons. It was at the local level of the canton where the real business of government (and everything else) took place.

The point at which Switzerland approached the character of a nation was almost solely in its own self-understanding as a people united against the larger world. In fact, it was in the requirement of Swiss military service that there was a larger or "national" political call placed on the Swiss. And this was strictly a defensive call, one to protect the country from the intrigues of the larger powers surrounding their small but mountainous world. In short, Switzerland was basically a defensive alliance of 26 rather autonomous cantons.

The language issue was for the Swiss of significance only at the canton level, where there indeed, one or another of the languages supported the cultural identity defining that particular canton. True, the Swiss tended to be multilingual, in their ability to speak across cantonal lines. But still, they were first and foremost French, German, Italian or Romansch-speaking Swiss (there is no "Swiss" national language).

And the Swiss had no aggressive foreign policy. Indeed, their policy was to stay out of everyone else's business, and keep everyone else out of theirs. Beyond that, they needed no nationalist cause (such as what drove World Wars One and Two) to define them. In fact, they laid very low during both wars, using their considerable mountain defenses to keep the warring parties out of their country.

Indeed, in virtually everything, they have performed as diplomatic "neutrals," joining none of the European alliances – except for the multinational organizations, the League of Nations and its successor the United Nations – whose European regional headquarters in fact have been located in Swiss Geneva. They have even refused to join the multinational European Union.

So yes, the Swiss found a very effective answer to the challenge of multiculturalism. But for the rest of the world to be able, or even be willing, to go down that same "confederational" rather than national road was, and still is, most unlikely. The crusading spirit of linguistic or sectarian nationalism in our world has always been much stronger than the kind of self-restricted and purely defensive instincts that have long directed Swiss behavior.



Yet, something (sort of) along those lines I realized was beginning to redirect Belgian cultural politics, even as I first took up the subject in late 1969. And Charles De Gaulle was a big help in this matter!

De Gaulle hated the English-speaking world, and blocked British entry into the European Common Market. And step by step he also removed French participation from the North Atlantic Treaty Organization (NATO), because it was clearly led by the United States. When he failed to get other European nations to join him in this NATO boycott, he kicked not only all American troops out of France, but also NATO headquarters (which had been placed in France) out of the country as well.

At this point NATO shifted its operational center north, to Belgium, where the administrative center of the new European Union (the Common Market and its evolved successor organizations) was already located. In doing so this gave Belgium something of a very key international status as the "center" of the New Europe, politically, economically and now militarily as well. And American corporations followed that shift in also moving their European headquarters to Belgium, which I well knew, having worked (via IBM) in these new offices.

And this shift proved to lift Belgium above the linguistic squabbles that had previously bedeviled Belgian politics, when political actors had previously played on cultural sensitivities to advance their particular careers. Now Belgian politicians had a higher purpose, competing to be the better party to lead Belgium even further forward in its new role as administrative center of the New Europe.



Of course, as I was doing my research (and ultimately writing) on the subject in the period 1969-1970, this new dynamic was only in its infant stages. But I saw where things were going to be taking Belgian society… and how its new higher national purpose would help it move past its linguistic or cultural quarrels.

And I would never forget what I learned in digging deeply into just this kind of social dynamic. It would serve me well in later years in understanding the most likely paths that this or that sectarian social or political movement was likely to take a society, and where a higher and more unifying purpose might better take that society.

And I learned especially the key role that leadership played in the process, for vision and resolve to move toward higher things did not just come by nature to a people. It had to be designed and presented before the people by those who could explain, and – most importantly – give clear personal example to the people of what these higher things were all about.

A true leader needed only to "inspire" the people. If he had to become a "dictator" in this matter, it was clear that the groundwork for a higher social purpose was still lacking. The people were still unable (most likely because of continuing sectarian or cultural differences) to let go of their social prejudices, and move with their leader to new things. Stalin faced that problem, Hitler did not. Gandhi, despite a willingness of both Muslims and Hindus to work together to get the British to "quit India," could not find a way to get Muslims and Hindus to work together after that. Indeed, the two Indian groups became bitter enemies. Mao never figured out how to get rural and urban China to work together – and nearly ruined China, twice. And so on.

So yes, I would watch closely how I saw a society's leaders approach the political-economic-cultural and even spiritual challenges facing a country. Would they merely advance their political careers by cultivating support among one social grouping, against another group in their society (and its leaders)? That was classical political sleaziness, not uncommon in societies that call themselves "democracies," where the people are easily mobilized to action because it is their group duty (quasi-patriotism or just crude sectarianism) to go at some other group, as some kind of great crusade! I saw plenty of that unfolding in America in the late 1960s.

Or were they really able to take that society to higher things, without starting a foreign war as a very destructive cheap-shot version of "pursuing higher things?"

President Kennedy and Dr. King clearly understood things along higher moral lines and tried to inspire Americans to support those higher things.

But Johnson did not have the same confidence in the American people, and tried to put his "higher vision" in place (his "Great Society") through social programs devised by social specialists and backed up by government economic policy and ultimately enforced by the law itself. But turning the challenge over to Washington bureaucrats was not the same thing as turning the challenge over to the American people, who were left very passive in this higher reach – with ironically, the Black community also becoming even more deeply reactive to "Middle America."

Johnson, also tried to bring the nation to higher national purpose by taking on the challenge of fighting the spread of Communism in Southeast Asia. But he really knew very little about the dynamics that drove Vietnamese society, and turned that country into an even bigger mess.

Thus tragically, disaster resulted from his efforts, both domestically and overseas.

And I had been in Washington (1963-1968) to see that all unfold!