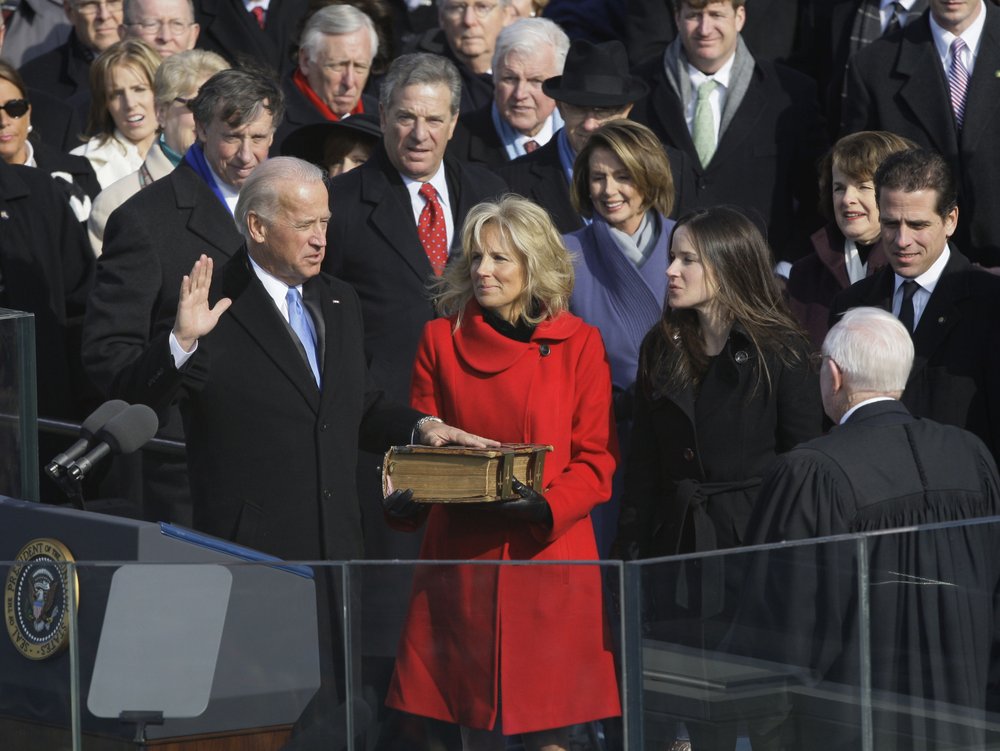 January 20, 2021 - Biden taking the oath of office as American president #46.

| | | |
| --- | --- | --- |
| | AND WHO EXACTLY WAS JOE BIDEN? | |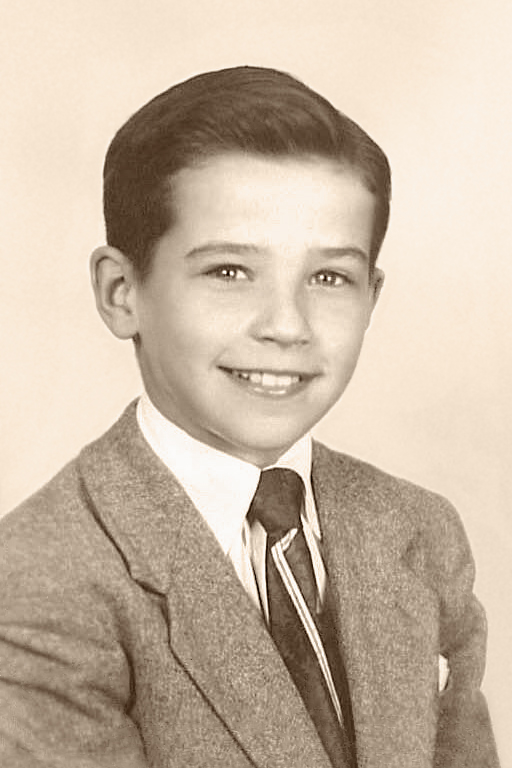 Joe Biden at age 10 (1953)




Biden at the University of Delaware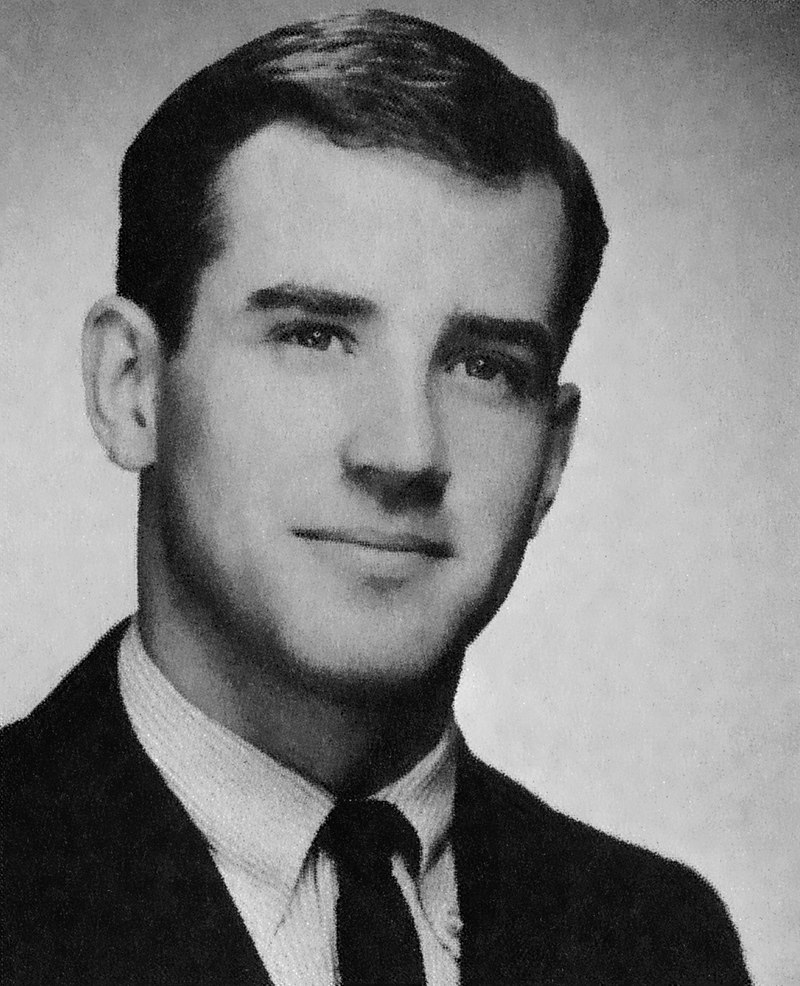 Biden's college yearbook picture - 1965




Biden and his sister Valerie during his 1970 run for a position on the New Castle County Council.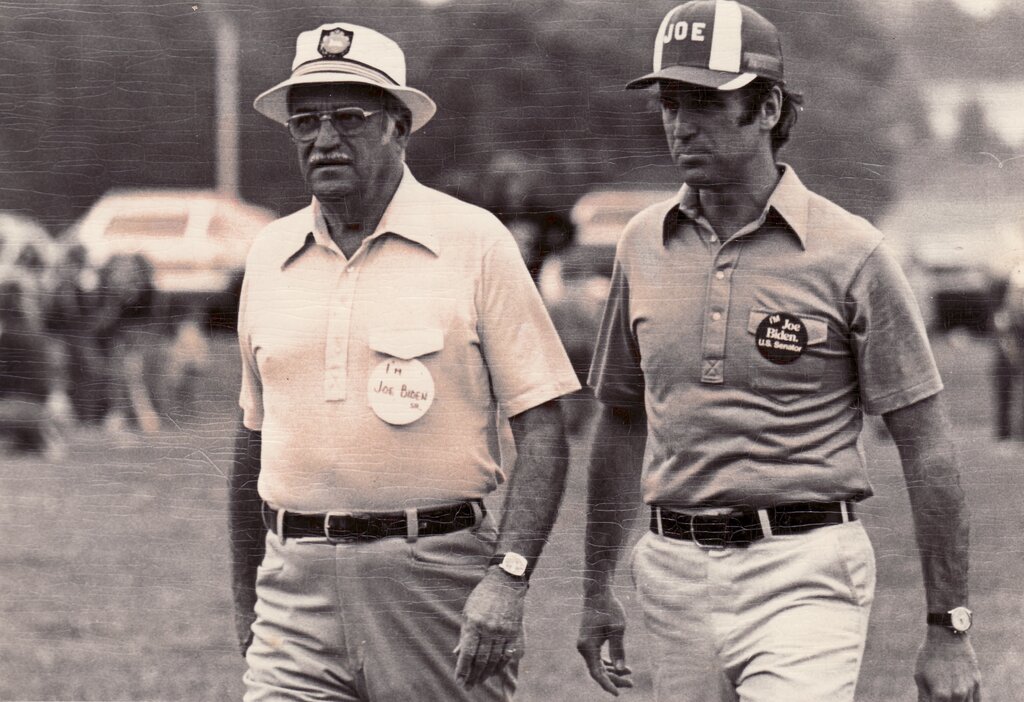 BIDEN ENTERS THE U.S. SENATE
AMIDST HORRIBLE FAMILY TRAGEDY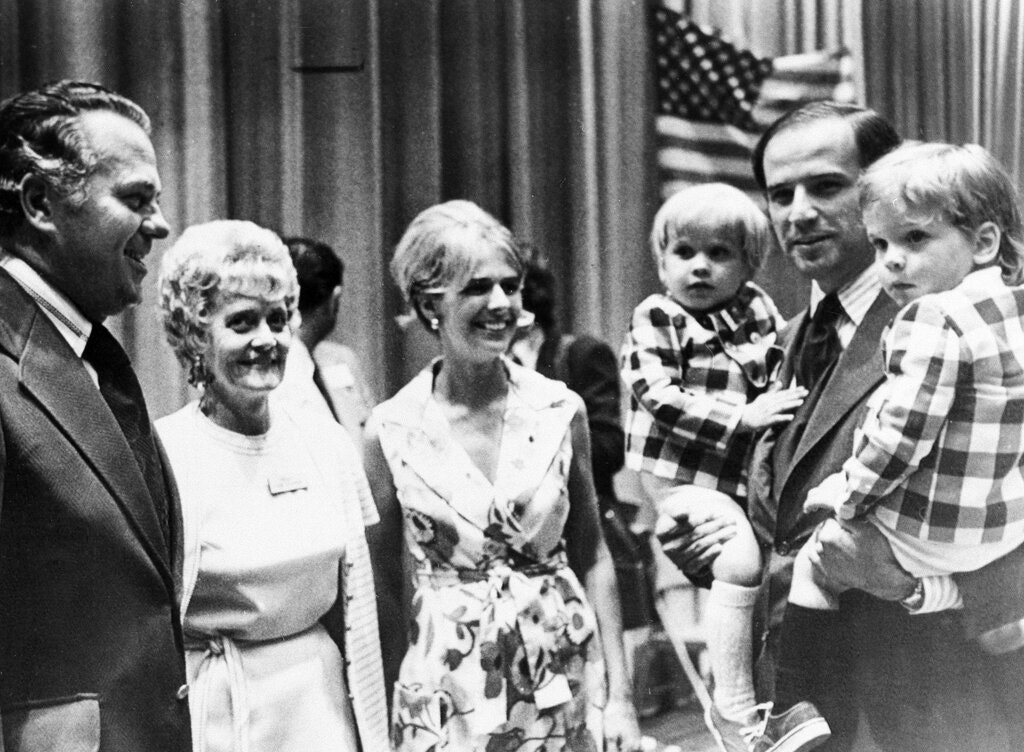 Biden with his wife Neilia and sons Hunter and Beau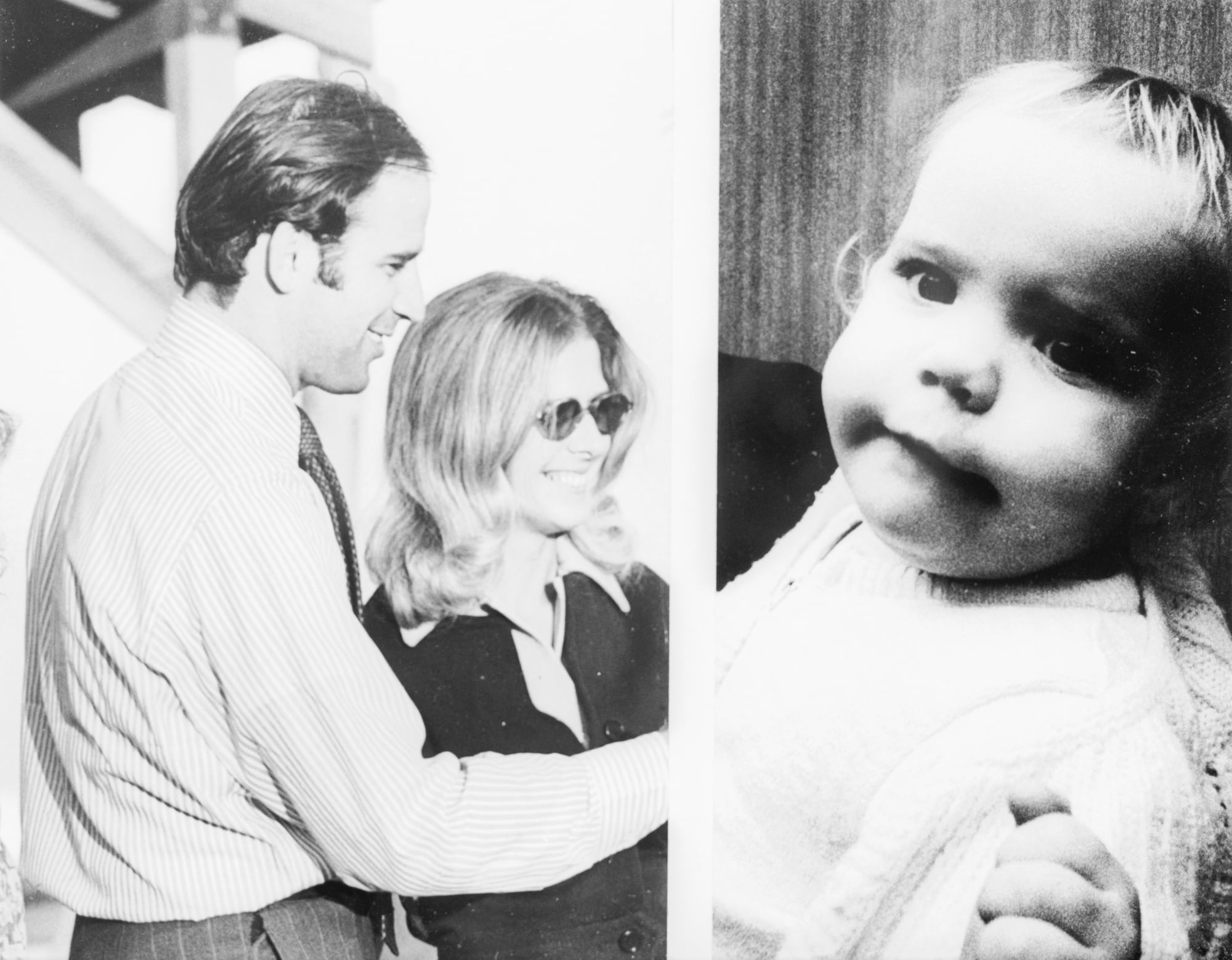 Joe and Neilia Biden and daughter Naomi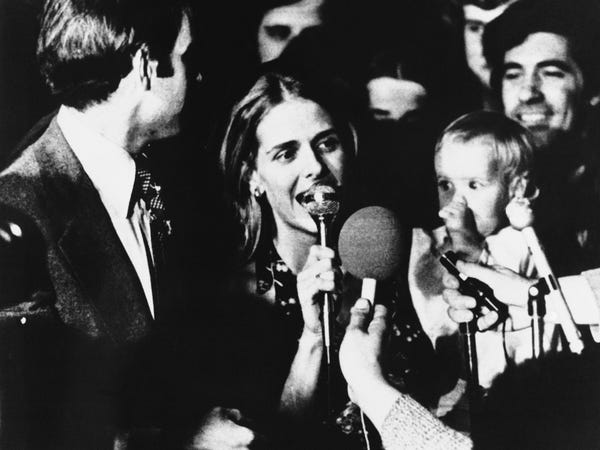 Neilia speaking on election night (with daughter Naomi on the right) - November 1972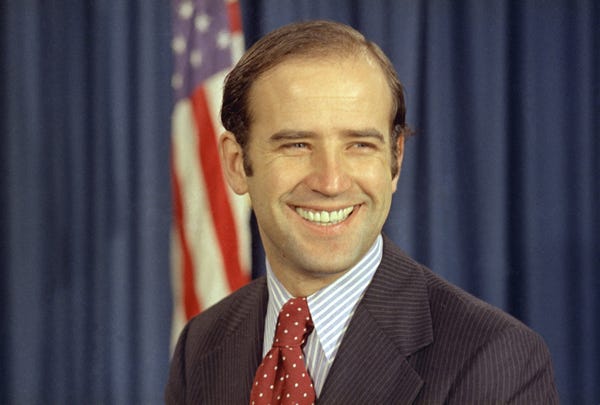 Biden ... upon announcement of his 1972 victory in the race as U.S. Senator (from Delaware)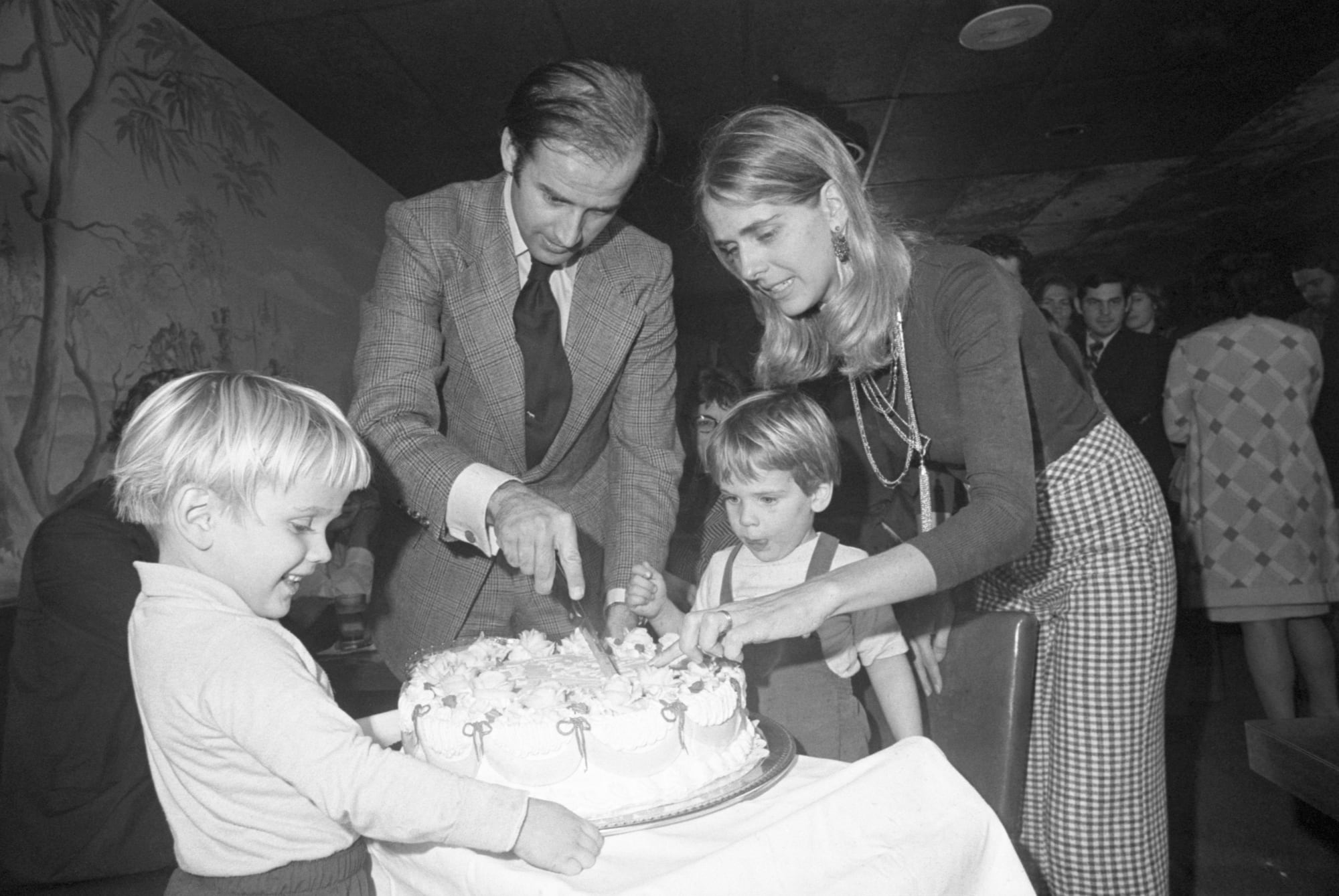 Biden and his first wife, Neilia, celebrating Joe's 30th birthday with their sons Hunter and Beau - November 20, 1972
---
Then on December 18, Neilia and Naomi were killed in a car accident on a Christmas shopping trip.
Beau and Hunter survived but had to be hospitalized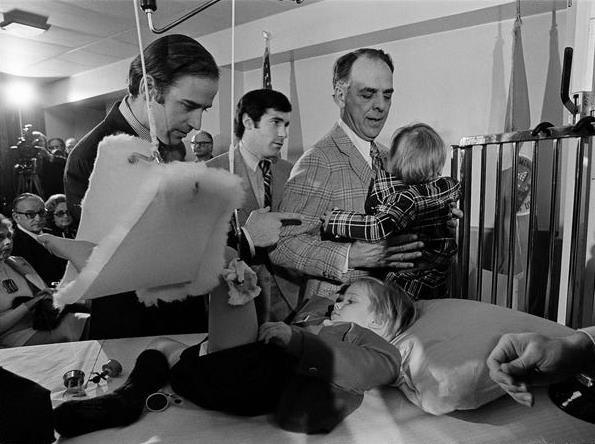 Biden was shattered ... and considered not taking up his new office as U.S. senator
He confessed later that he even felt suicidal ... and was very angry at God
But ultimately he was sworn into office
... at the bedside of his son Beau at the Wilmington hospital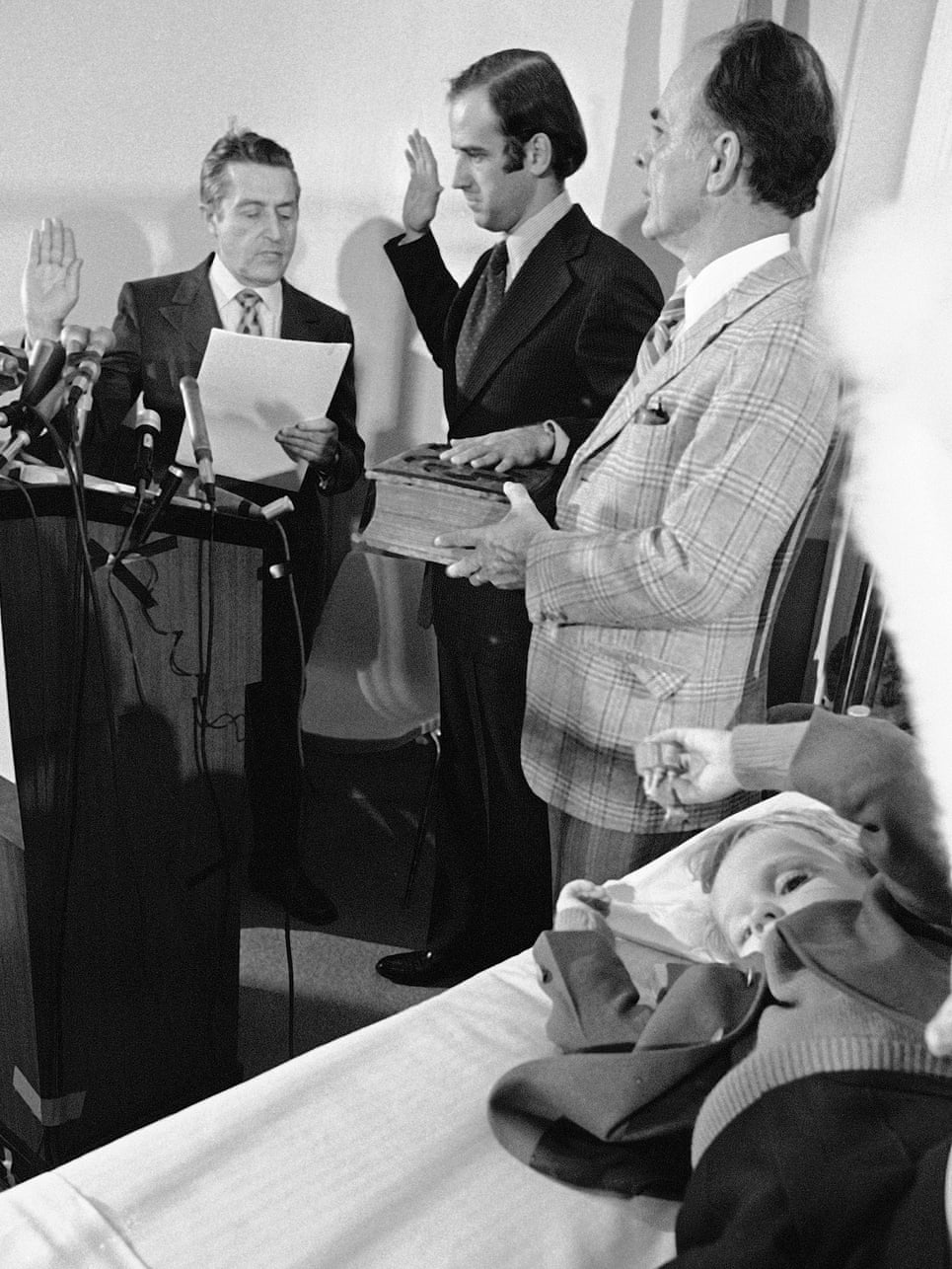 January 1973 Biden is sworn in as U.S. Senator (son Beau in the foreground)
| | | |
| --- | --- | --- |
| | LIFE GOES ON FOR SENATOR JOE BIDEN | |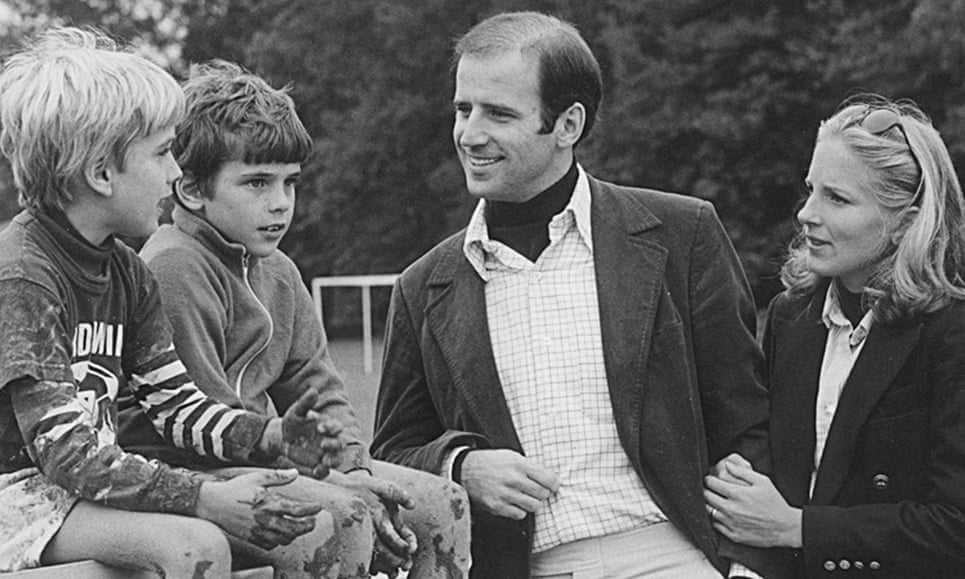 Joe with his sons Beau (left) and hunter ... and his future wife Jill Jacobs.
He met Jill on a blind date arranged by his brother in 1975.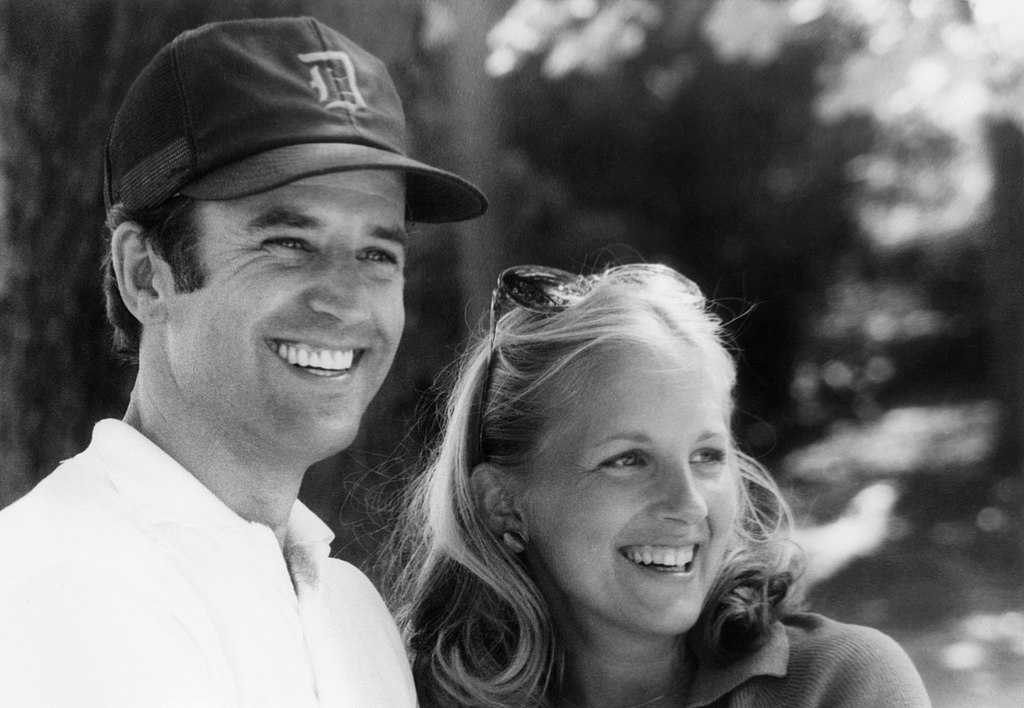 Joe and Jill in their early years together - 1975
They were married in 1977 and had a daugher, Ashley in 1981
---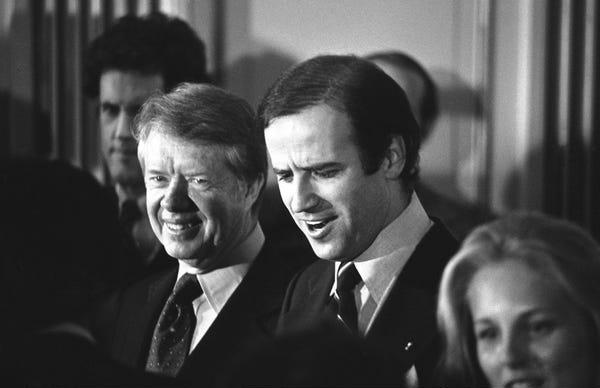 Senator Biden and President Carter in 1978
(Biden had been the first Senator to support Carter in his 1976 decision to run for the presidency)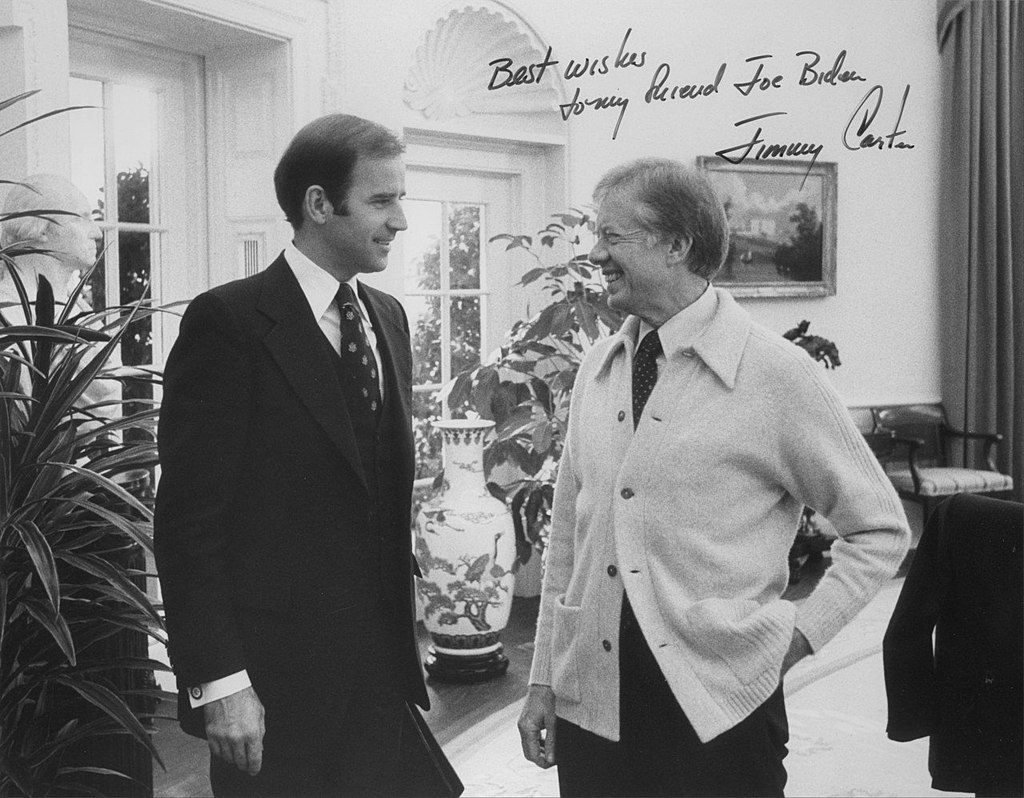 They would remain close
---
Joe and Jill were very much Catholic in religion
which Joe often made very clear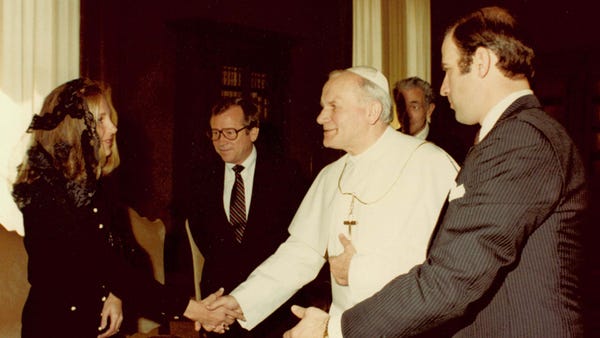 Jill and Joe meet Pope John Paul II at the Vatican - April 1980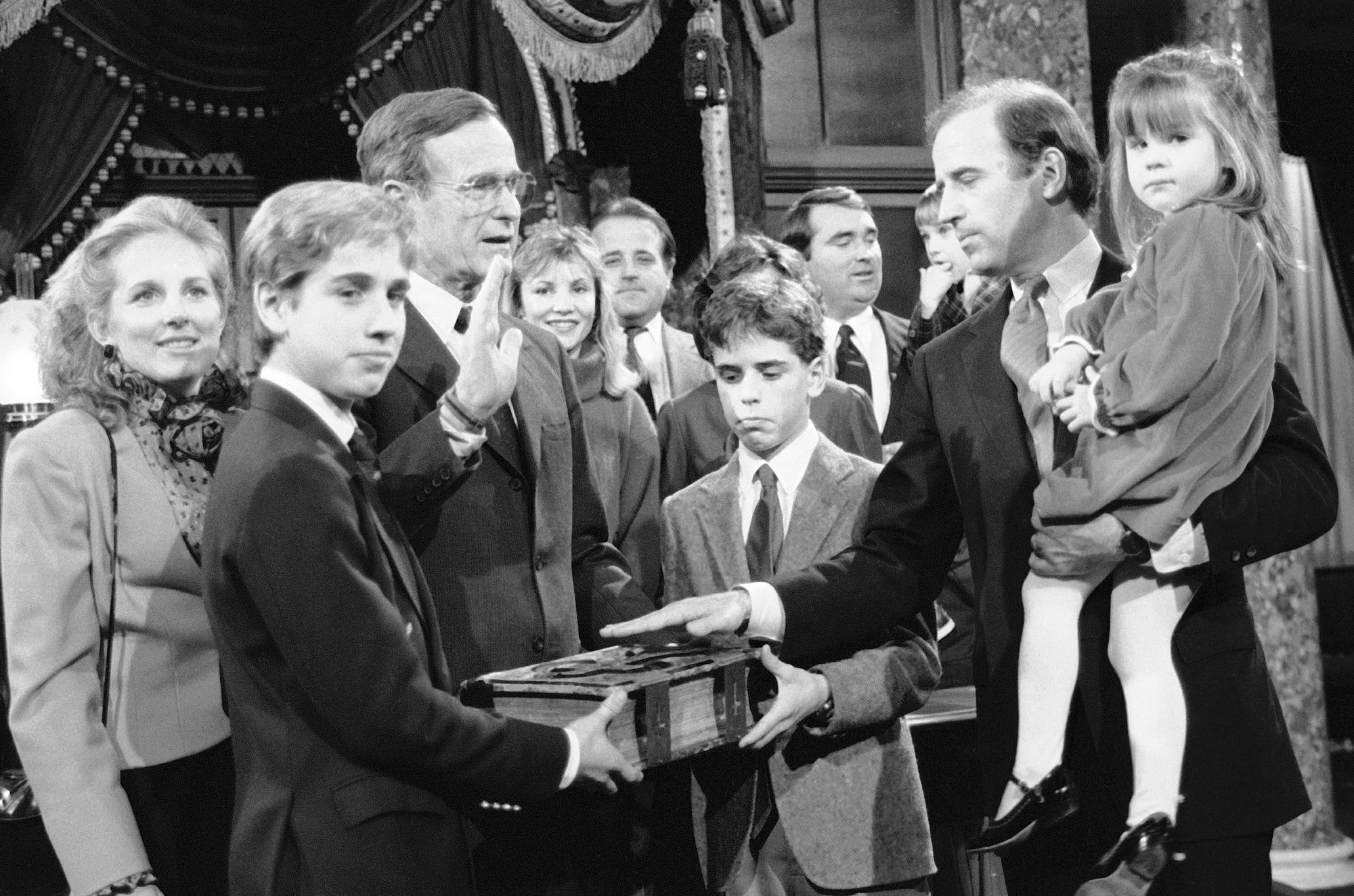 Vice President Bush leads Biden in a swearing-in ceremony - 1985
---
In 1987, President Reagan nominated Judge Robert Bork for the position
as U.S. Supreme Court Justice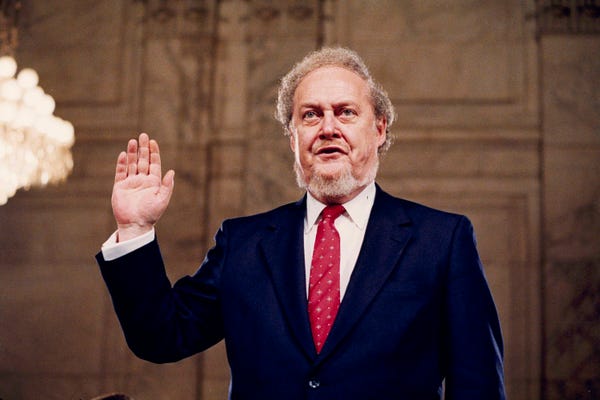 The appointment went to the Senate for confirmation - September 1987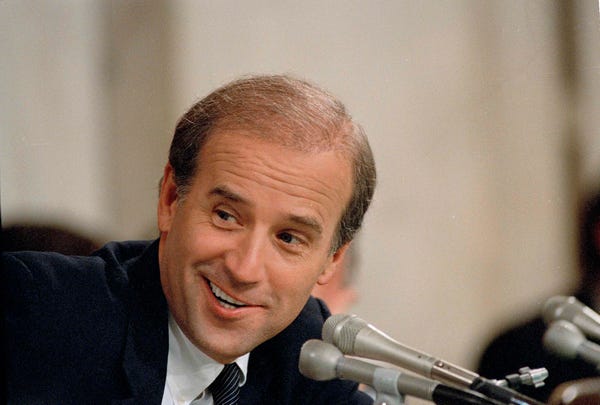 ... and the preliminary hearing was assigned to the Senate Judiciary Committee, which Biden chaired
(chairman 1987-1995).
There Bork was opposed strongly by Biden ...
who was chiefly responsible for Bork's final failure to be appointed as U.S. Supreme Court justice
| | | |
| --- | --- | --- |
| | BIDEN'S FIRST PRESIDENTAL RUN - 1987 | |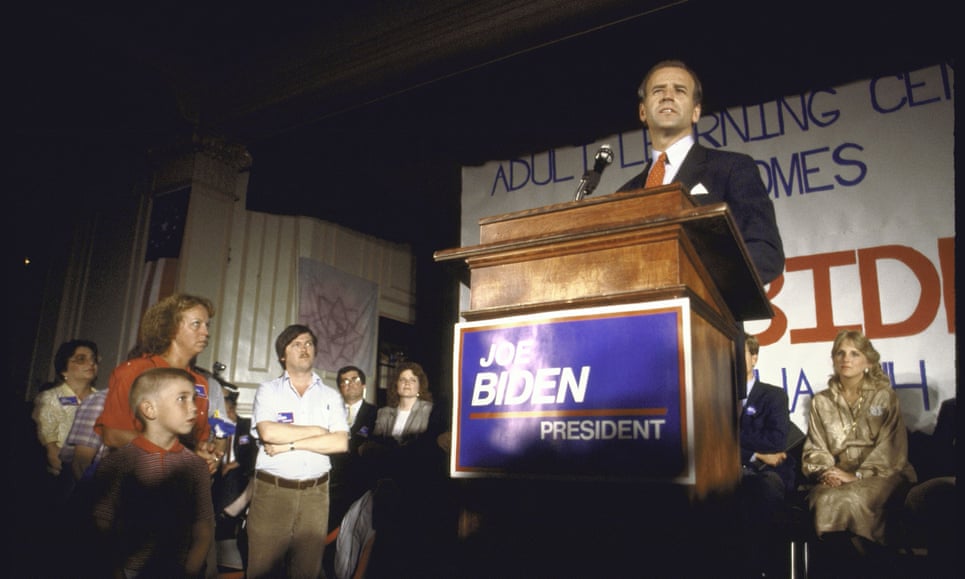 Biden announcing his decision to run for the U.S. presidency at the end of Reagan's term in office - June 1987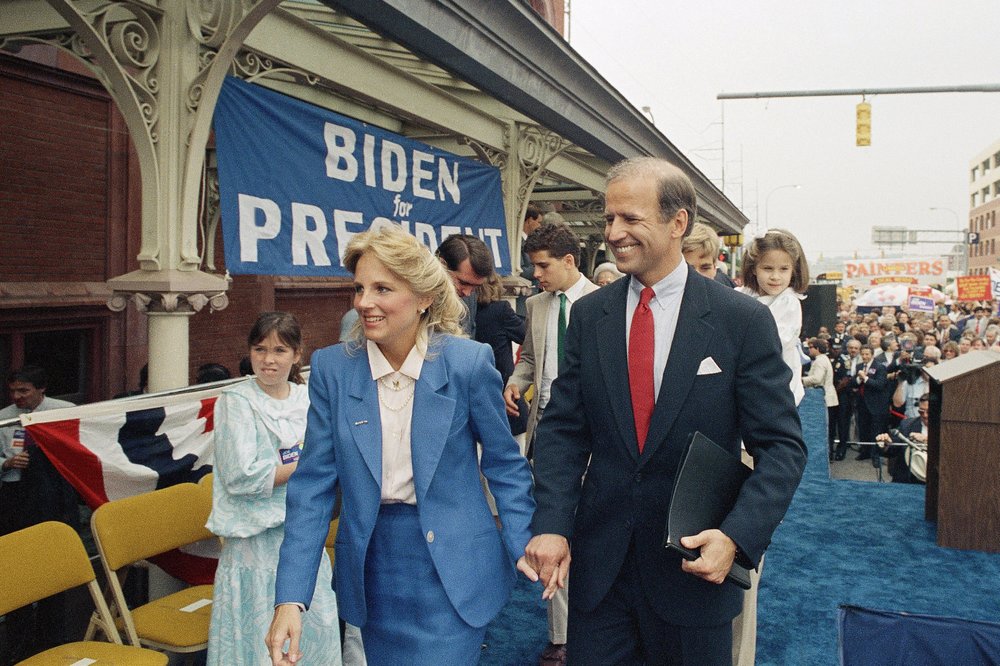 Joe and Jill begin their campaign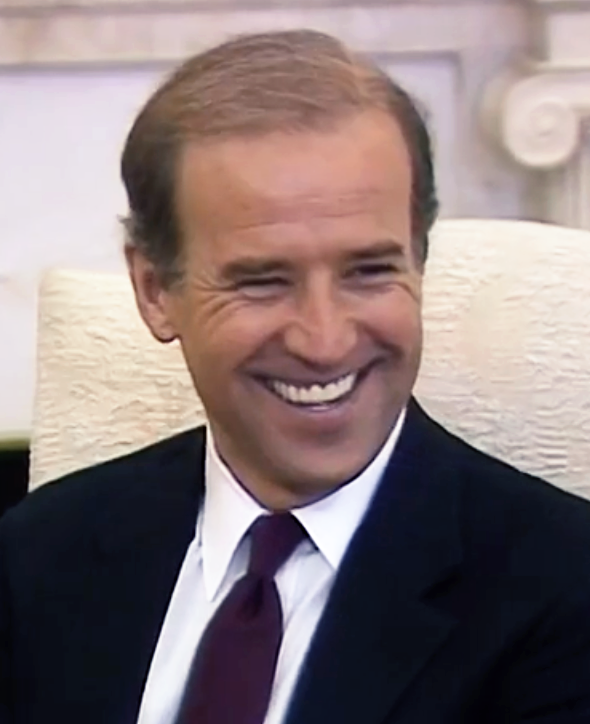 But he would drop out of the race when reports emerged that he had plagerized a paper back in law school.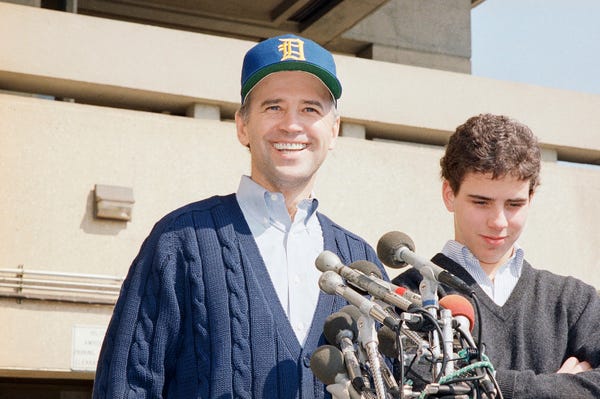 Then in 1988 he was also discovered to have possibly two deadly aneurysms in his brain ...
and had to undergo two critical surgeries. Here he is with son Beau after the first operation.
He would return to his Senate work seven months later.

| | | |
| --- | --- | --- |
| | BIDEN AS AN INCREASINGLY INFLUENTIAL SENATOR | |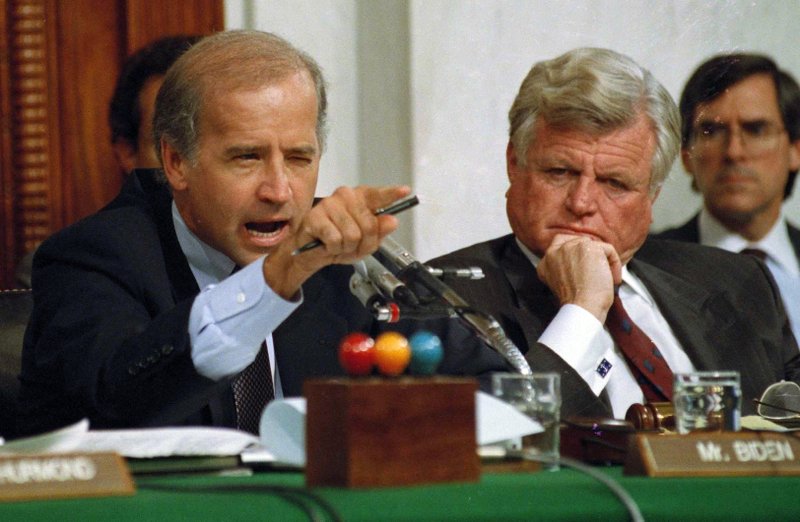 Biden pointing angrily at Justice Clarence Thomas during the hearing for his nomination to the Supreme Court.
He later claimed that he did not do enough to protect Anita HIll
from the demeaning inquiry of the other male members of his Judiciary Committee
(though in fact that was their job ... to scrutinize Hill's accusations of Thomas's "inappropriate behavior"
... especially when other women who had worked with Thomas told a very different story than Hill's.)
Ironically, sitting next to him is Ted Kennedy ... hardly the bastion of moral purity.

Biden would sponsor a major legislative piece in the form of a new crime bill - 1994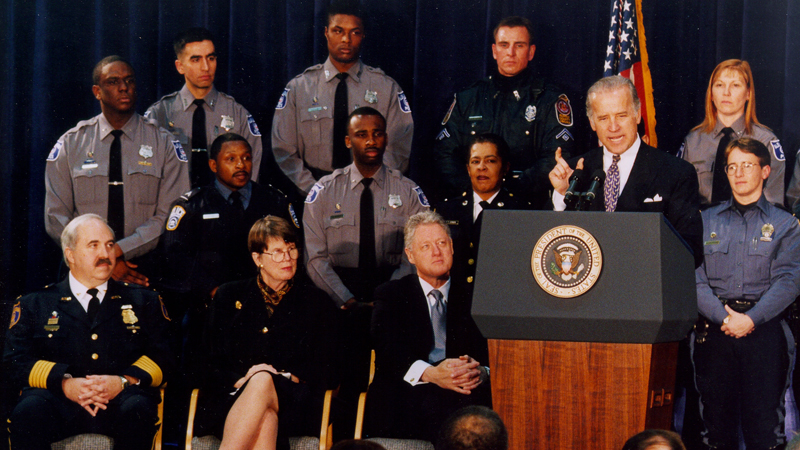 But he would also be active in the realm of foreign affairs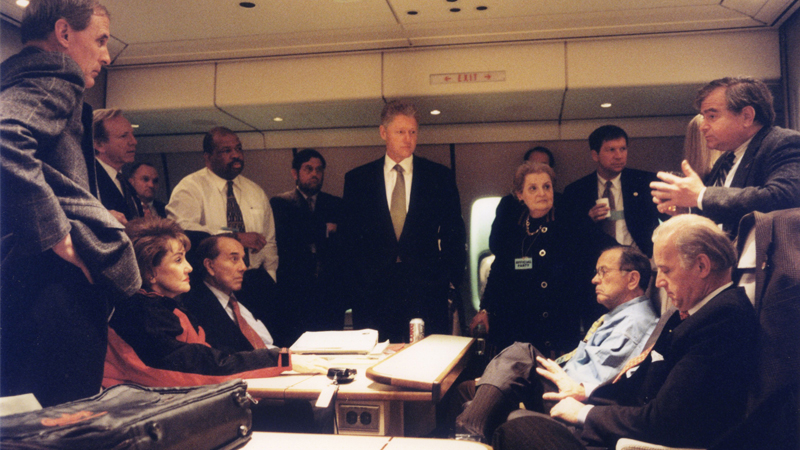 Here he is flying with Clinton and his staff to Yugoslavia in 1997
to take on the ethnic cleansing crisis engulfing that highly divided society

Biden would become chair of the Senate Foreign Relations Committe 2001-2003 and again 2007-2009.
At first he (unwisely) supported the Bush, Jr.'s decision to go to war in Iraq
... then back away from that support.
He also opposed the 2007 troop surge (which actually worked!)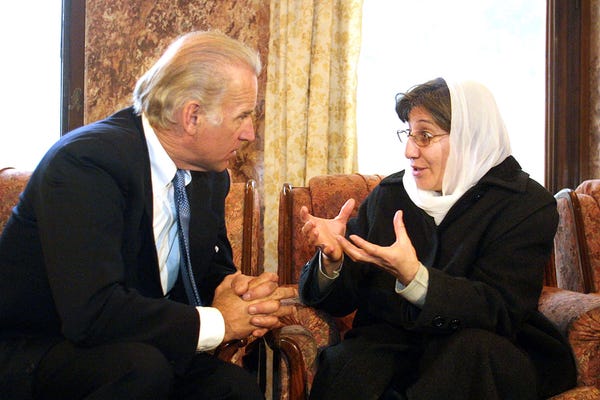 Here he is in Afghanistan, meeting with Afghan women's rights leader Sima Samar - January 2002

| | | |
| --- | --- | --- |
| | BIDEN'S SECOND PRESIDENTAL RUN - 2007 | |
Biden decides to run again for U.S. President - 2007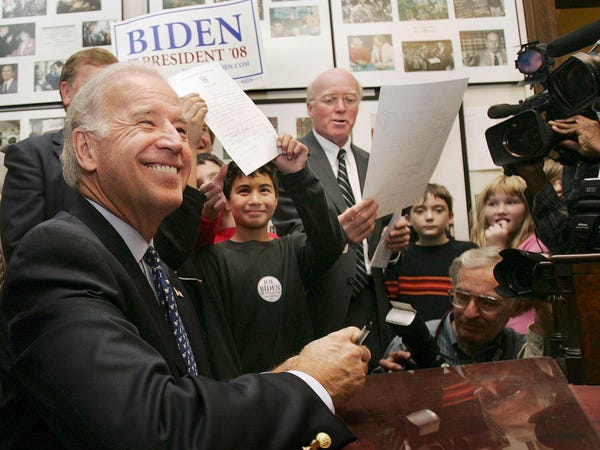 Here he beams after signing candidacy papers in time for the all-important New Hampshire primary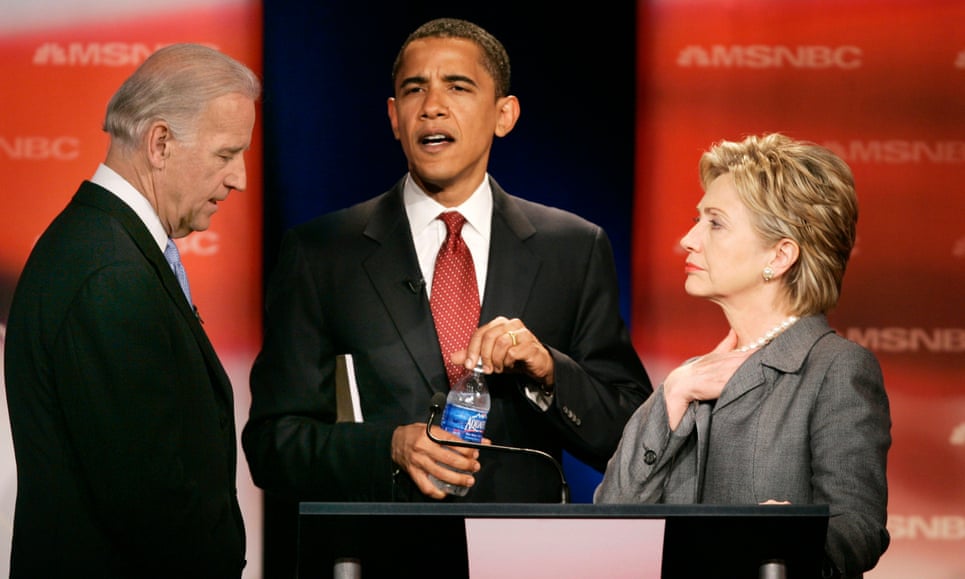 Biden, Obama and Clinton prior to the start of a Democratic presidential primary debate - 2007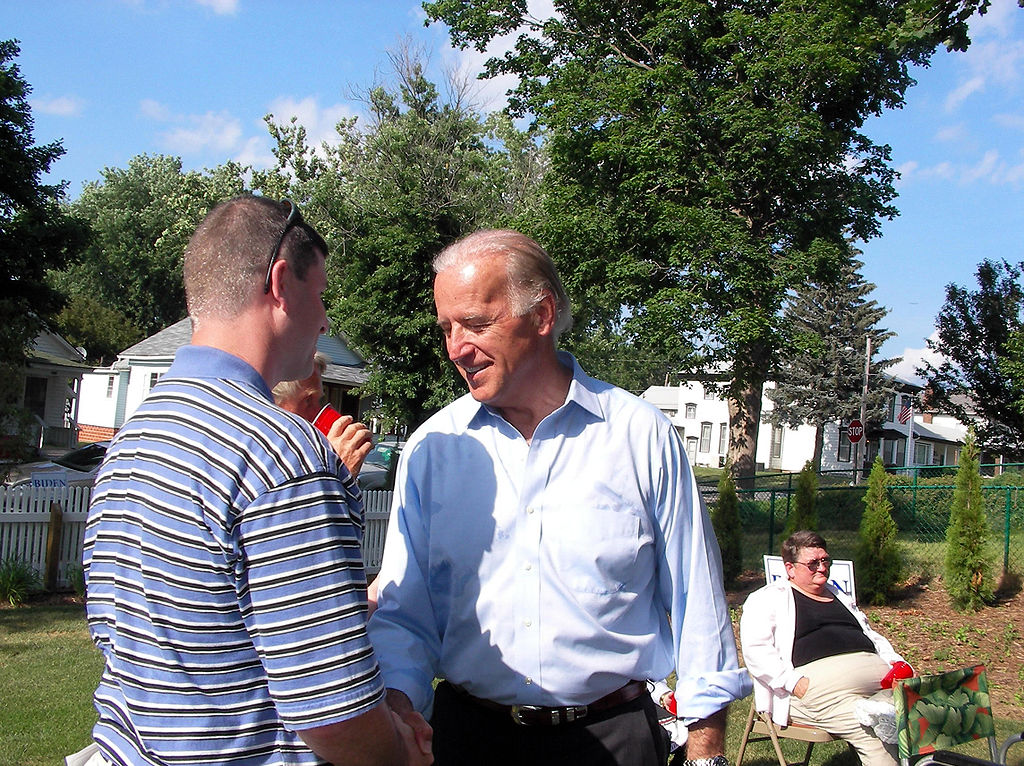 And he campaigned hard for the presidential job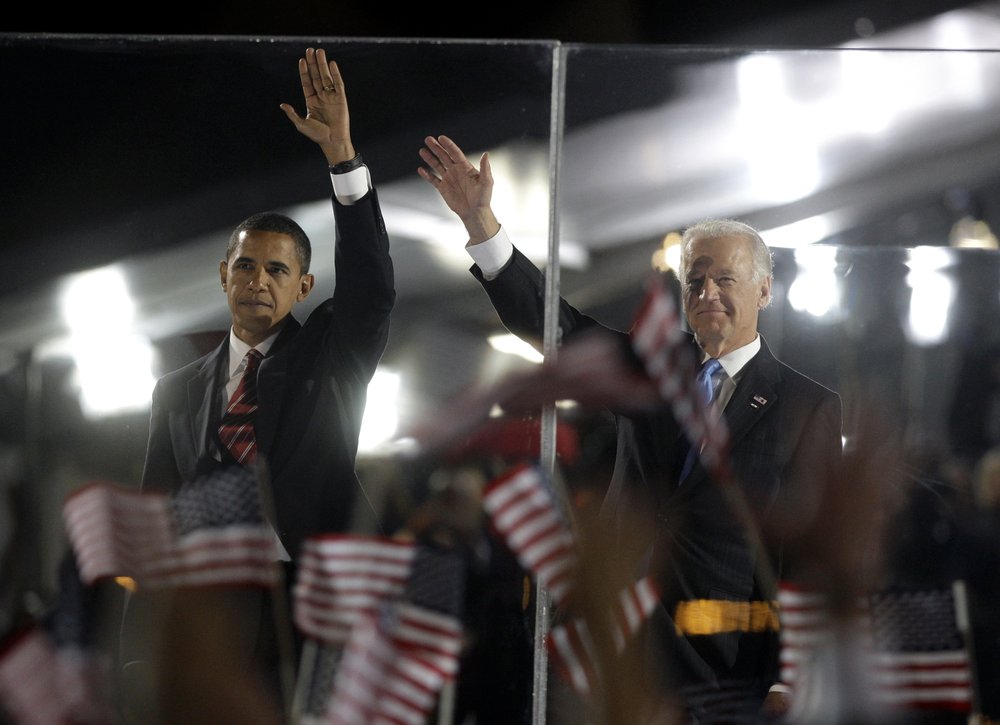 November 4, 2007 Obama and Biden celebrating together at their election night party
| | | |
| --- | --- | --- |
| | BIDEN AS OBAMA'S VICE PRESIDENT (2009-2017) | |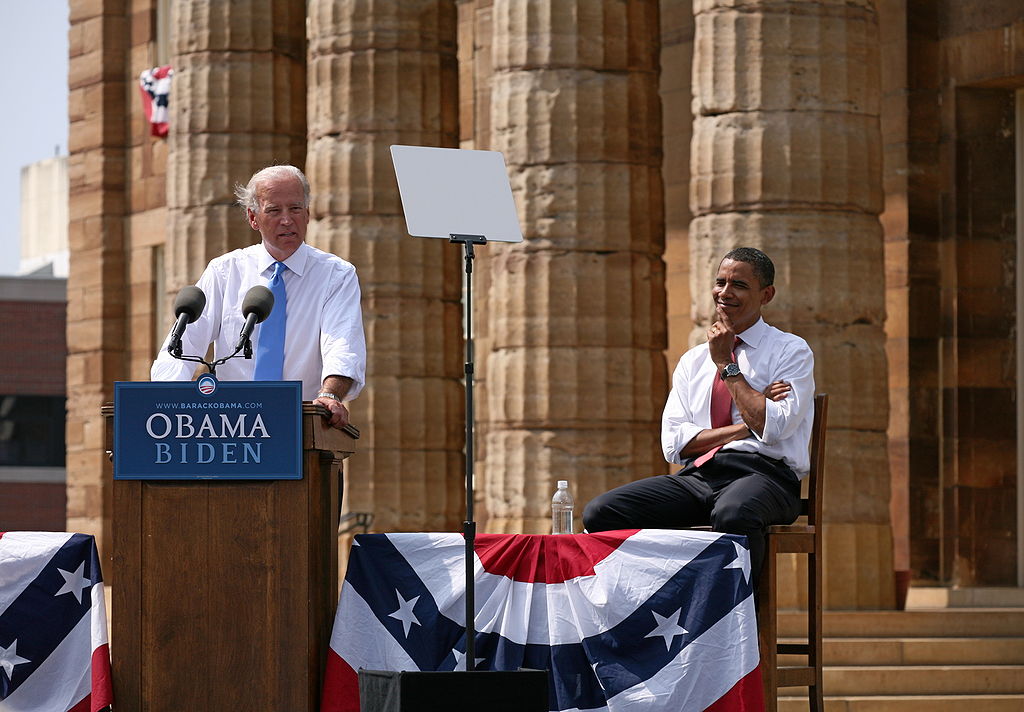 Biden and Obama campaigning together - 2008
Biden and Obama would work together closely.
Here Obama is congratulating Biden for his work helping get a debt-ceiling bill passed in Congress - 2011.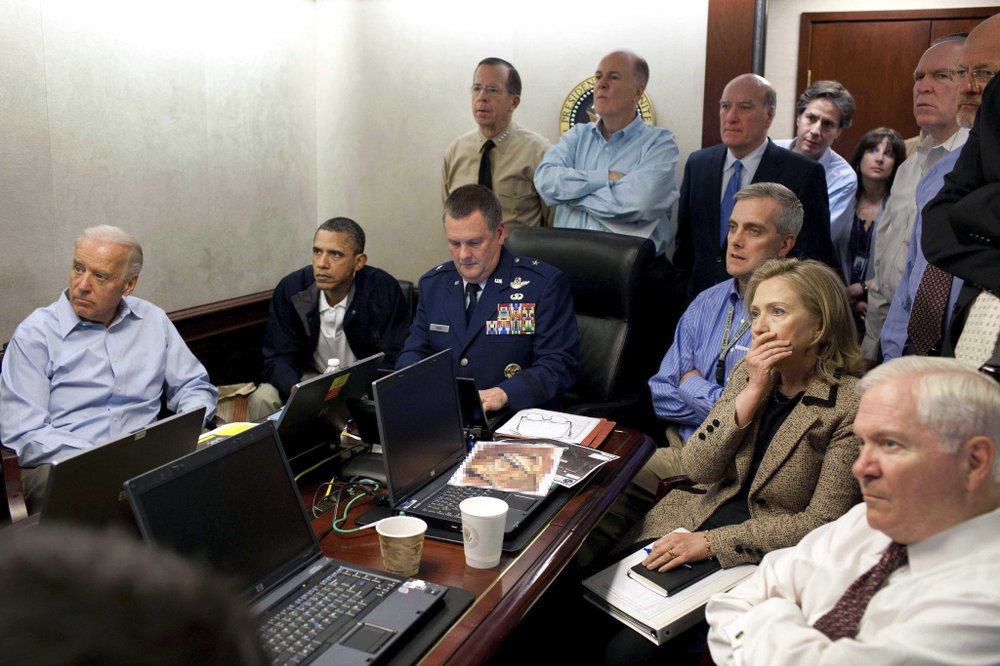 A grand moment ... Biden, Obama, Clinton and others watch the takedown of Bin Laden - May 1, 2011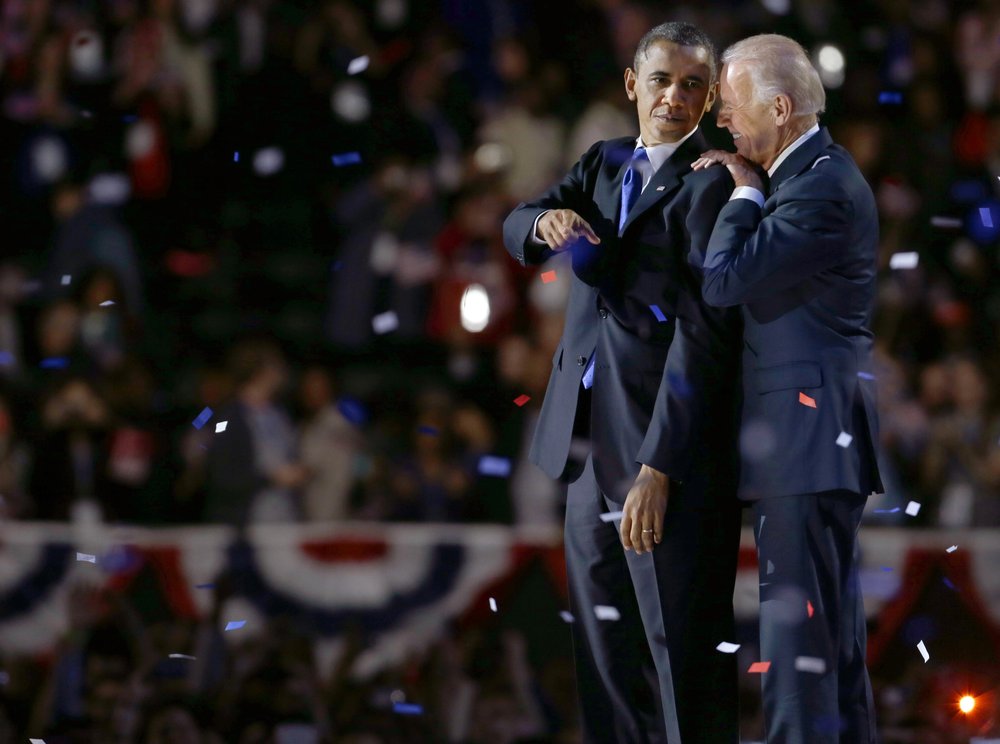 November 7, 2012 - Another election night party, with Obama and Biden understanding
that they had defeated Republican candidate Mitt Romney (and his running mate Paul Ryan)
---
Tragedy strikes Biden and family again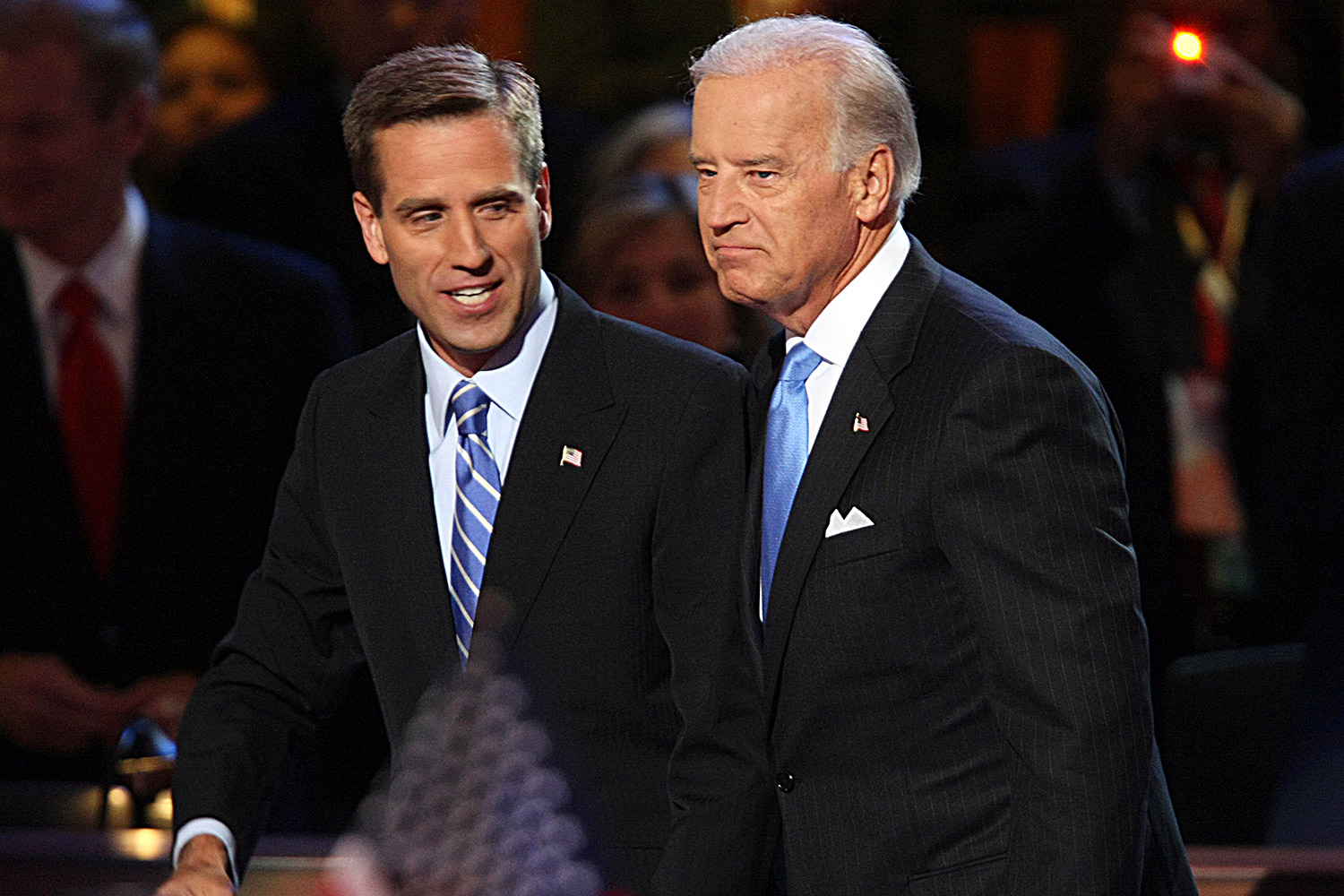 Joe and his son Beau at the 2008 Democratic Party national convention
... when his son Beau died of brain cancer (46 years old) - May 30, 2015
Beau's casket being carried into church in Wilmington - June 2015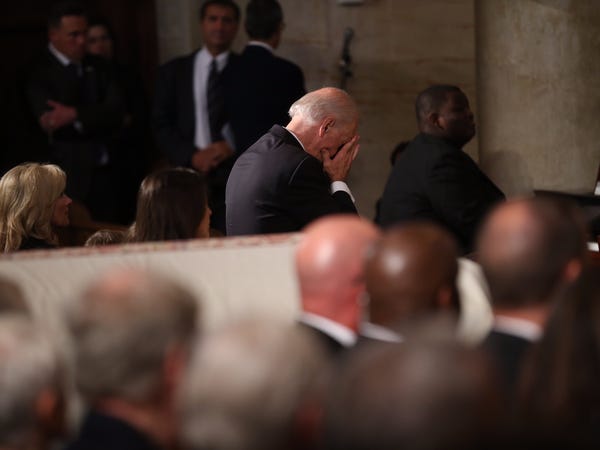 Biden at his son's funeral
Consequently ... Biden chose not to run in the 2016 presidential race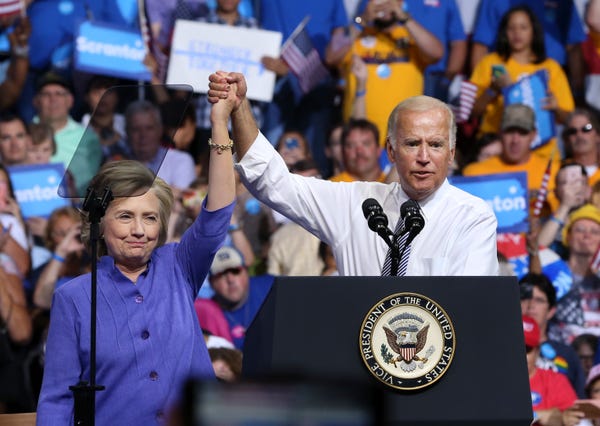 but campaigned for Hillary Clinton instead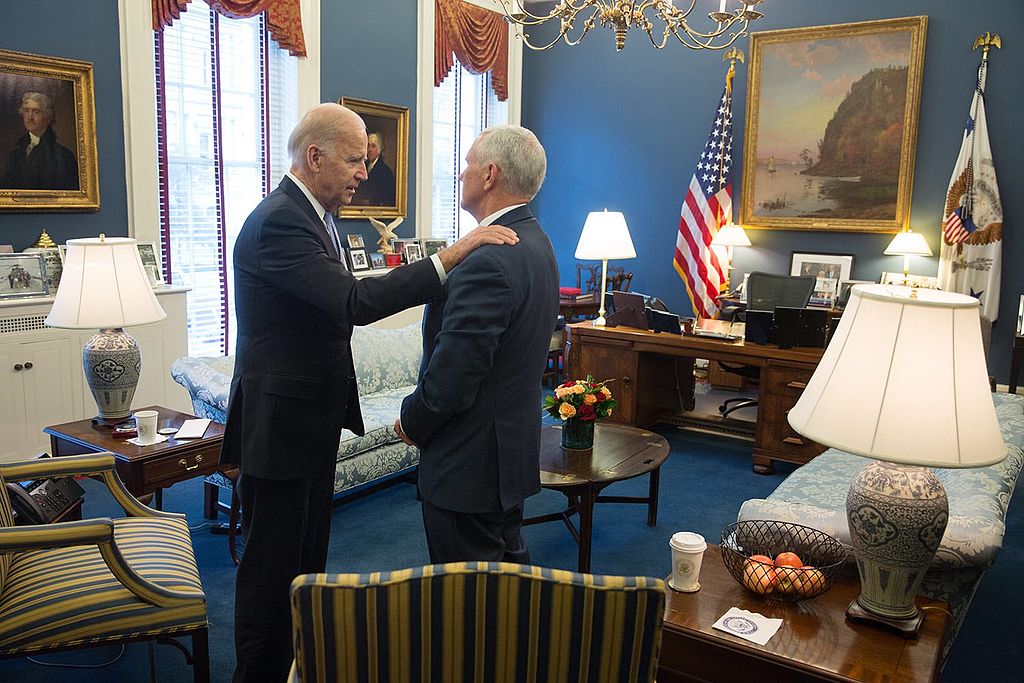 Biden meeting with Mike Pence, his replacement as Vice President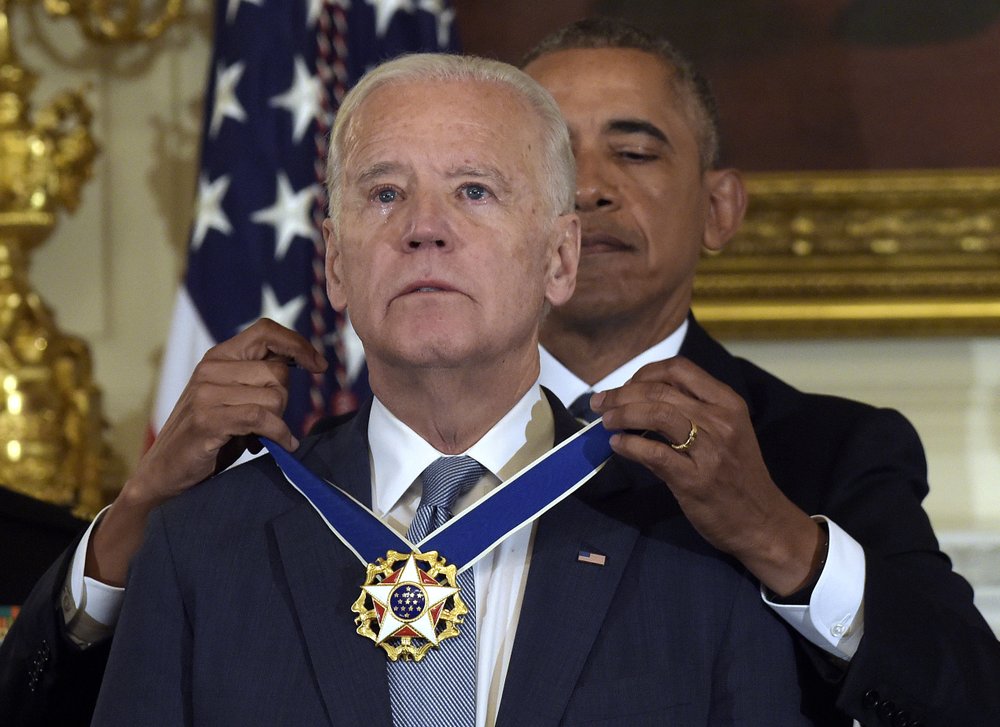 Biden tears up as Obama, in one of his last acts as outgoing president,
awards Biden with the Presidential Medal of Freedom (January 2017)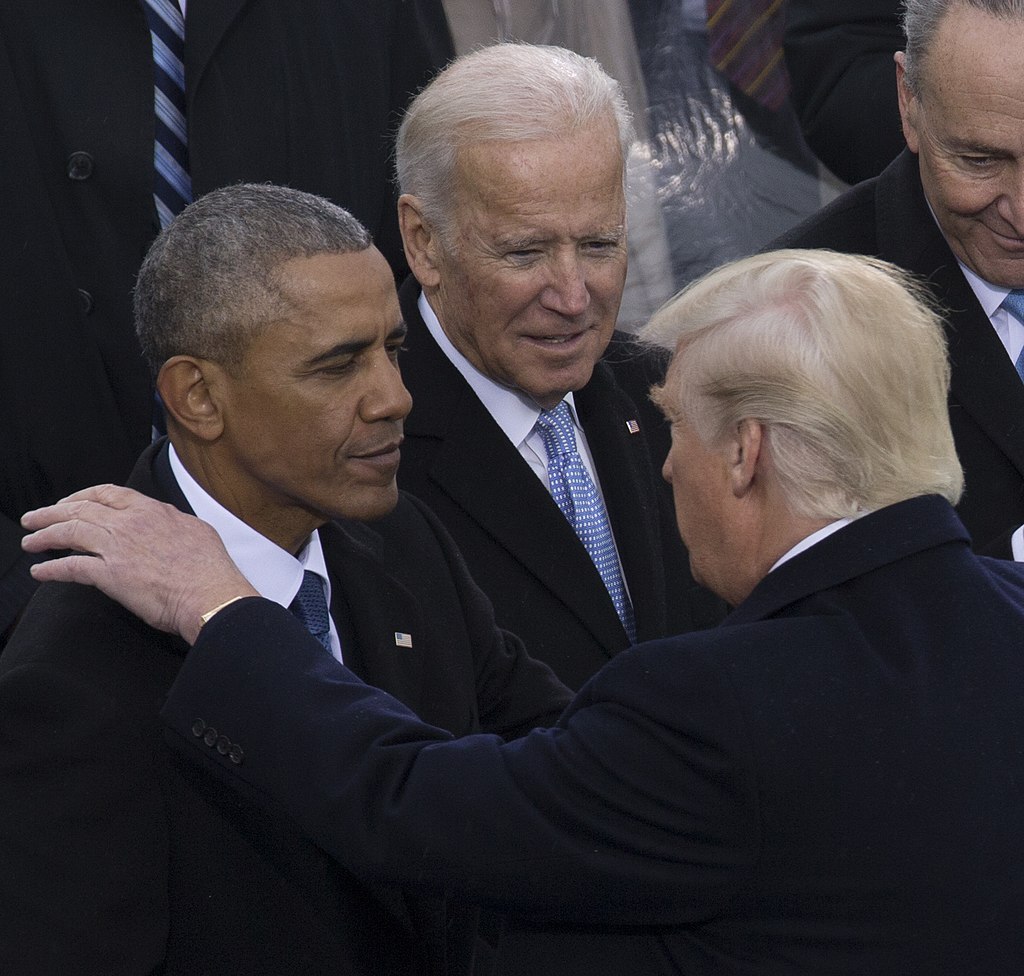 Obama and Biden greeting Trump at his inauguration - January 20, 2017
(Trump would not return the favor four years later at Biden's inauguration)
---
Then family troubles hit when the news came out in March of 2017 that his son Hunter
was having an affair with his deceased brother's wife Hallie.
The news came out after Hunter's wife Kathleen filed for divorce ... (separated since October of 2015)
... citing a huge list of bad behavior on Hunter's part as her reason for the divorce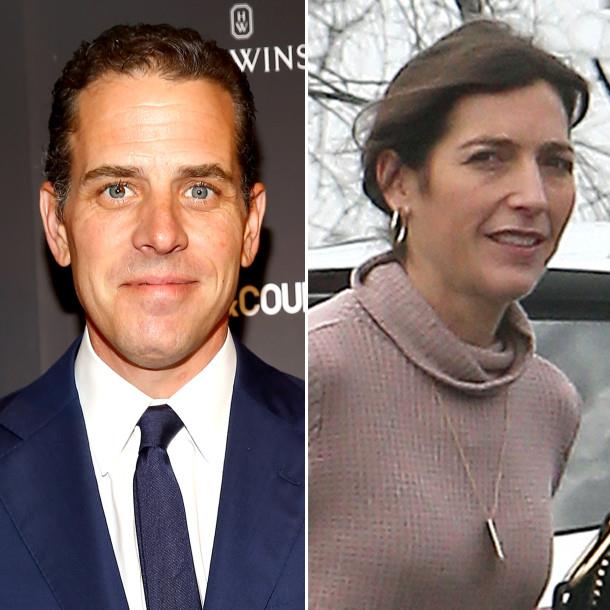 Hunter did not deny the relationship with Hallie.
Instead, he asked his dad to bless the relationship ... which Biden did:
"We are all lucky that Hunter and Hallie found each other
as they were putting their lives together again after such sadness.
They have mine and Jill's full and complete support and we are happy for them.
(Time, March 3, 2017/ Time, April 30, 2019)
But two years later (during Biden's run again for president) the two would separate.
| | | |
| --- | --- | --- |
| | BIDEN'S THIRD (AND SUCCESSFUL) PRESIDENTAL RUN 2019-2020 | |
In April of 2019 Biden launched his third run for the presidency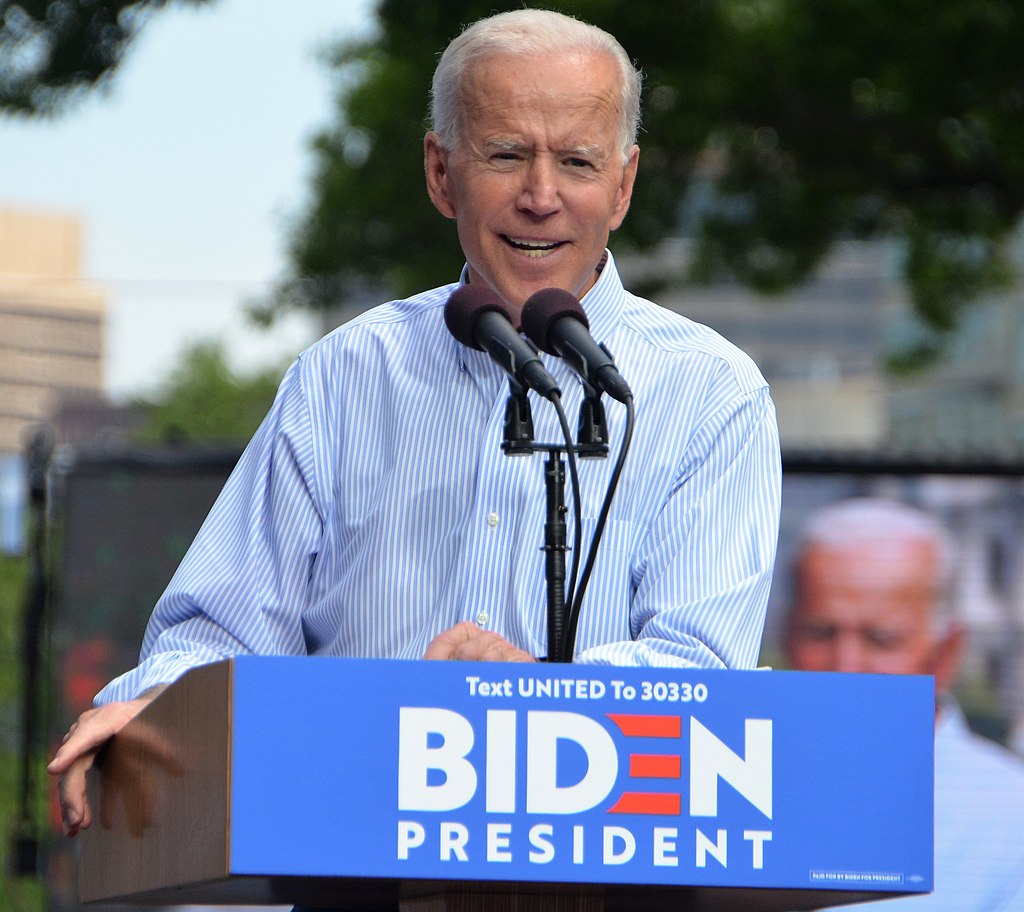 Biden announcing his third run for the U.S. Presidency - May 18, 2019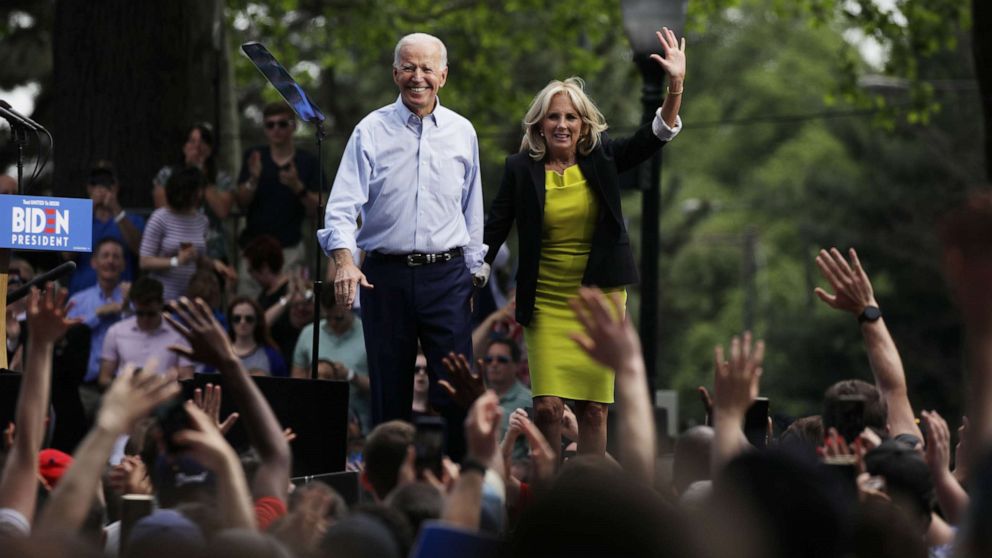 Joe and Jill Biden kicking off their campaign together in Philadelphia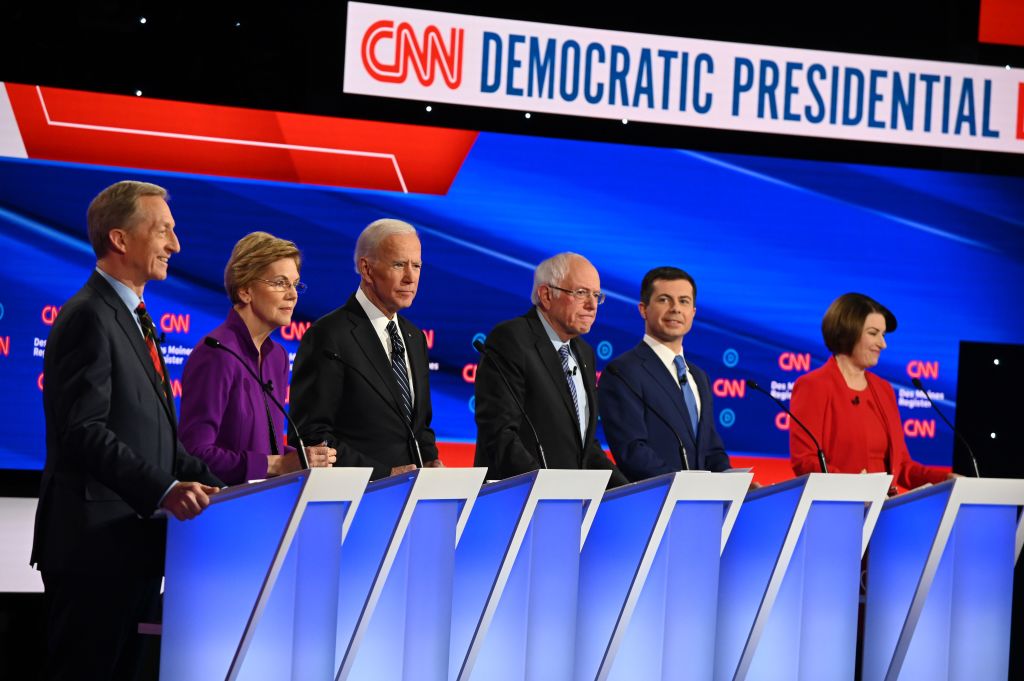 Biden at one of a huge series of Democratic Party debates - January 14, 2020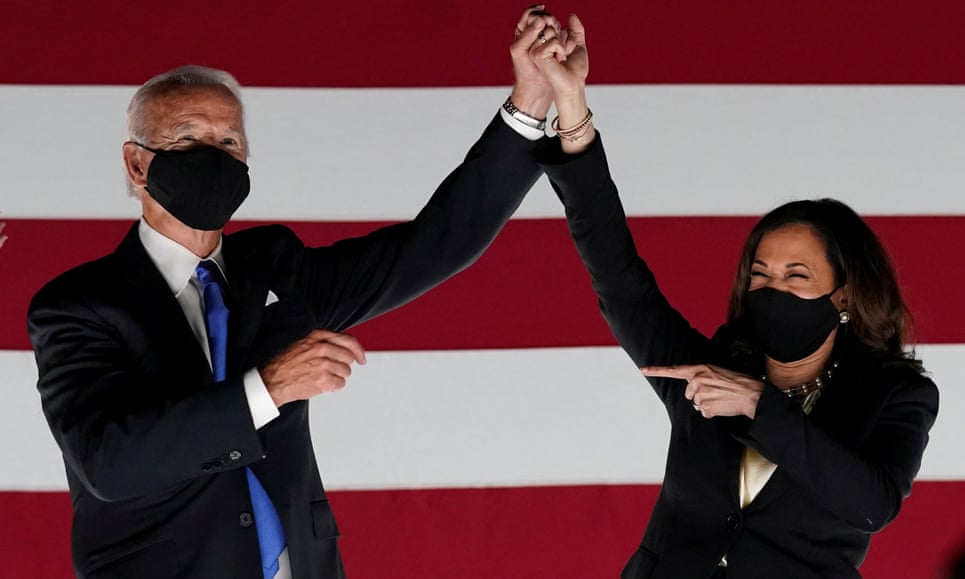 Biden announces Kamala Harris as his choice of "woman of color"
to be his vice-presidential running mate - March 2020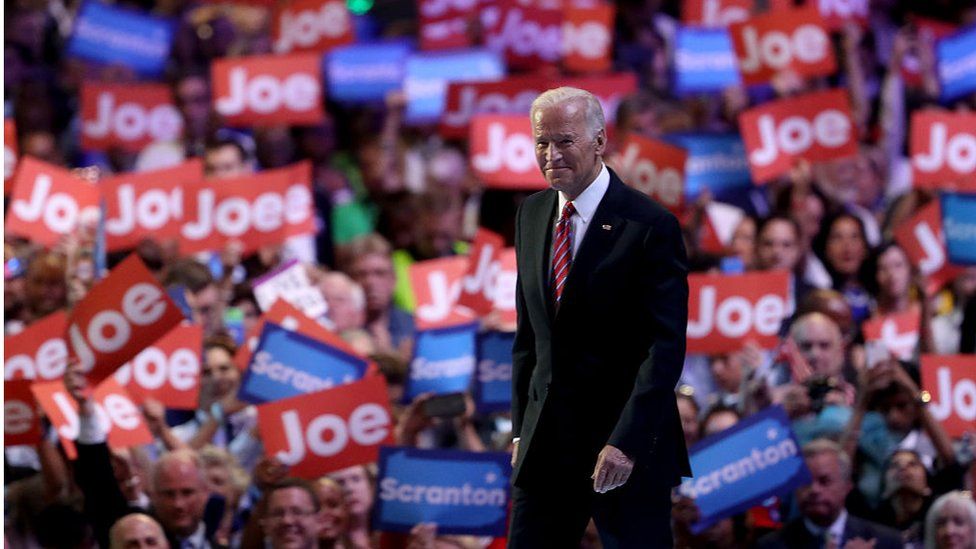 Biden getting his official nomination at the Democratic Party national convention August 17-20 in Milwaukee
... participants greatly reduced in number because of Corona-virus restrictions (but notice: no masks!)
Trump and Obama at their 2nd presidential debate - October 22, 2020
But at this point 40 million Americans had already voted by mail
... and the ratings did not really change anyway ... despite of this much more civil debate
Biden speaking before a Wilmington gathering upon the announcement of his electoral victory - November 2020