Read Joshua 1:1-9

What problems faced the people of Israel as they finally entered the Promised Land?


The Promised Land was not empty, but well inhabited by Canaanites, who were prosperous, numerous and well-protected by strong walls around every one of their towns. They would not be an easy enemy to take the land from.
They also had their own gods: Ashtaroth (Earth Mother) and the Baals (male fertility gods). The Israelites would be tempted to worship of the Canaanite gods along with their own God, Yahweh, as a way supposedly of improving their chances of success in the new land.
What were the instructions of the Lord God (Yahweh) to the Israelites as they began the takeover of the Promised Land?


Observe all of the Law that God gave them.
Whenever the the Israelites went into battle, the priests were to carry the Ark of the Covenant ahead of them (the ark was the mysterious "seat of power" of the invisible Lord God). God would then work great wonders among them, such as parting the Jordan River so that they could cross into the Promised Land unhindered (Joshua 3:1-17).
All the males were to be circumcised as a sign of being in covenant with God as "His people." (Joshua 5:1-9)
In all things, do not look to the right or the left but straight to God for plans and instructions.
The battles of Jericho and Ai: why did they have such different outcomes?


At Jericho the people followed closely the instructions of God (to destroy every living thing in the city and to give the Canaanites' wealth over to the Lord)--and the city was miraculously delivered into their hands. (Joshua 6:15-21)
But some of the warriors kept forbidden goods for themselves. So when the Israelites next attempted to take the city of Ai, they were easily chased off and humiliated--because God gave them no strength.
The Israelites responsible for breaking God's instructions were soon discovered--and they and all their family were stoned and burned by the Israelites, thus lifting God's curse from Israel. (Joshua 7:1-26)
Why do you think God was so "tough"?


Why do you think God wanted total obedience?
What was likely to happen to His chosen people if they began to let down their guard?
Could they have survived as a special nation if they had begun to take up the ways of the Canaanites?

Read Judges 2:11-19
What was the job of the judges?
How was it that Israel constantly got itself into trouble--so that the nation needed God's judges to rescue them?
Who were some of these judges?
Ehud against the Moabites
Deborah and her captain Barak against the Canaanites
Gideon (Jerubbaal) against the Midianites
Jephthah against the Ammonites
Samson against the Philistines
The unnamed Levite against the Benjamites (fellow Israelites)
What trait did they have in common (in addition to their sometimes crude behavior!)?

Read 1st Samuel 7:3-14
Samuel: Judge or Prophet?
Samuel was born of a woman (Hannah) who had given up all hope of having children, but who pledged to God that if she should have a son, she would dedicate him to the Lord (1st Samuel 1:1-18)
Samuel was born soon thereafter, and when Samuel was still a boy, she brought him to the High Priest Eli to be brought up in God's care. (1st Samuel 1:19-28)
The boy Samuel soon heard a voice calling him--discovering that the voice was God's. Under Eli's instructions Samuel was to listen and to recite (like a prophet) exactly what he heard God say. Samuel's first prophecy: that the worthless sons of the beloved Eli would be destroyed. A rather grim start for the boy! (1st Samuel 3:1-18)
The Israelites were (as usual) fighting the Philistines, when Eli's sons got the bright idea of taking the Ark of the Covenant from its base in Shiloh and bringing it to battle, to strengthen the spirit of the Israelite soldiers. But, of course, God himself had not commanded such a strategy. Thus the Ark was in fact captured by the Philistines, the Israelite army routed and Eli's sons killed.
At this point Samuel stepped forward to act as judge of Israel (for Eli had died upon hearing about Israel's tragedy). His mission: to call Israel to repentance

Read 1st Samuel 8:1-9
Saul--the first King
But Israel's repentance was not very lasting. As Samuel became an old man, the Israelites began to ask for a king to replace him. No more judges. Israel wanted to be like the other nations with kings and regular armies.
When Samuel prayed to God about this matter, God told him that it all saddened Him very much, for this meant that the people were rejecting God as their leader. But God told Samuel to do as the people wished--for they would have a king.
Soon thereafter God directed Samuel to Saul--and Samuel anointed him as king. Also Samuel spoke some words of prophecy over Saul in order to prove that Saul was in fact God's choice.

Read 1st Samuel 12:13-25


Saul at first proved to be a king very faithful to God. So Samuel decided to retire as Israel's judge. But he still warned them: whether you succeed or fail depends not on your reliance upon kings--but on your reliance upon God.
But when Israel was facing difficulties with the Philistines, and Saul began getting nervous because Samuel had not yet arrived to bless the Israelite army, Saul took matters in his own hands by offering the priestly sacrifices himself. Like Moses at one point, Saul found himself getting ahead of God. The penalty was (like with Moses) that Saul lost out on the future. Kingship would not pass to Saul's family--but to someone else.
Saul, and his son Jonathan, fought very bravely--and with God's apparent continuing help--fairly successfully against the Philistines. But again, Saul got in trouble with God when he and his soldiers spared the most important enemies and took the best of the plunder. When confronted by Samuel they reported that they did so only to offer a better sacrifice at Gilgal.
But Samuel reminded them that God was not interested in sacrifices--but rather obedience.

Read 1st Samuel 15:22-23 Now Saul was rejected by God as king.

Read 1st Samuel 16:1-13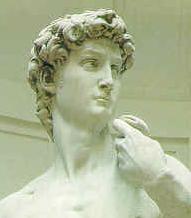 David is annointed King
Samuel now was instructed to go to Jesse of Bethlehem to anoint one of his sons as the new king. Samuel and Jesse were both very surprised when it turned out that the son God had chosen was the very youngest of the 8 brothers!
David begins to distinguish himself


Not too much later David came to the notice of Saul as someone whose playing of the harp was so soothing that it calmed Saul's fits of madness.
He also came to Saul's notice as a warrior when he alone stood ready to do battle with the Philistine giant, Goliath. (1st Samuel 17:12-54)
Soon David was given military leadership. God was so obviously with David in delivering victory after victory--that Saul grew insanely jealous. In his madness, Saul tried repeatedly to kill the faithful David, even when David proved again and again his total loyalty to Saul.
David's time of testing


In order to escape Saul, David was forced to live among the hated Philistines.
At two different times David had an opportunity to kill Saul and thus get himself out from under this very unfair situation. But each time David refused to do so, because David knew that he had to await God's timing: Saul had been anointed by God and until Saul was no longer king, David refused to take the throne for himself.
David comes to the throne


Finally Saul and his son Jonathan were both killed in battle. David's time of testing was over. He was now ready to become king. (1st Samuel 31:1-13 and 2nd Samuel 2:1-7).
For a while there was an on-going civil war between those still loyal to the house of Saul (led by the military leader Abner) and those loyal to David. But step by step David grew stronger--until finally the civil war ended with the deaths of Abner and Ish-bosheth (Saul's son). David was finally king over all Israel
Why do you think David had to wait so long / go through so much turmoil / in order to be Israel's king