LONDON TO LADYSMITH VIA PRETORIA
BY
WINSTON SPENCER CHURCHILL
AUTHOR OF
'THE STORY OF THE MALAKAND FIELD FORCE, 1897',
'THE RIVER WAR: AN HISTORICAL ACCOUNT OF THE
RECONQUEST OF THE SOUDAN',
'SAVROLA: A ROMANCE'
LONGMANS, GREEN, AND CO.
39 PATERNOSTER ROW, LONDON
NEW YORK AND BOMBAY
1900
---
DEDICATION
THIS COLLECTION OF LETTERS IS INSCRIBED TO
THE STAFF OF THE
NATAL GOVERNMENT RAILWAY
WHOSE CAREFUL AND COURAGEOUS DISCHARGE OF THEIR
EVERY-DAY DUTIES AMID THE PERILS OF WAR
HAS MADE THEM HONOURABLY CONSPICUOUS
EVEN AMONG THEIR FELLOW COLONISTS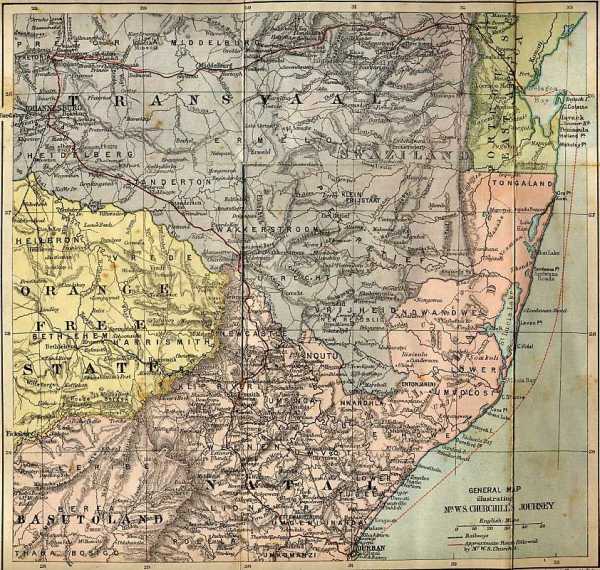 MAP OF MR. CHURCHILL'S ROUTE
---
INTRODUCTORY NOTE
This small book is mainly a personal record of my adventures and impressions during the first five months of the African War. It may also be found to give a tolerably coherent account of the operations conducted by Sir Redvers Buller for the Relief of Ladysmith. The correspondence of which it is mainly composed appeared in the columns of the Morning Post newspaper, and I propose, if I am not interrupted by the accidents of war, to continue the series of letters. The stir and tumult of a camp do not favour calm or sustained thought, and whatever is written herein must be regarded simply as the immediate effect produced by men powerfully moved, and scenes swiftly changing upon what I hope is a truth-seeking mind.
The fact that a man's life depends upon my discretion compels me to omit an essential part of the story of my escape from the Boers; but if the book and its author survive the war, and when the British flag is firmly planted at Bloemfontein and Pretoria, I shall hasten to fill the gap in the narrative.
WINSTON S. CHURCHILL.
March 10, 1900.
---
CONTENTS
CHAPTER I. STEAMING SOUTH
R.M.S. 'Dunottar Castle,' October 26 and October 29, 1899
CHAPTER II. THE STATE OF THE GAME
Capetown; November 1, 1899
CHAPTER III. ALONG THE SOUTHERN FRONTIER
East London: November 5, 1899
CHAPTER IV. IN NATAL
Estcourt: November 6, 1899
CHAPTER V. A CRUISE IN THE ARMOURED TRAIN
Estcourt: November 9, 1899
CHAPTER VI. DISTANT GUNS
Estcourt: November 10, 1899
CHAPTER VII. THE FATE OF THE ARMOURED TRAIN
Pretoria: November 20, 1899
CHAPTER VIII. PRISONERS OF WAR
Pretoria: November 24, 1899
CHAPTER IX. THROUGH THE DUTCH CAMPS
Pretoria: November 30, 1899
CHAPTER X. IN AFRIKANDER BONDS
Pretoria: December 3, 1899
CHAPTER XI. I ESCAPE FROM THE BOERS
Lourenço Marques: December 22, 1899
CHAPTER XII. BACK TO THE BRITISH LINES
Frere: December 24, 1899
CHAPTER XIII. CHRISTMAS AND NEW YEAR
Frere: January 4, 1900
CHAPTER XIV. A MILITARY DEMONSTRATION AND SOME GOOD NEWS
Chieveley: January 8, 1900
CHAPTER XV. THE DASH FOR POTGIETER'S FERRY
Spearman's Hill: January 13, 1900
CHAPTER XVI. TRICHARDT'S DRIFT AND THE AFFAIR OF ACTON HOMES
Venter's Spruit: January 22, 1900
CHAPTER XVII. THE BATTLE OF SPION KOP
Venter's Spruit: January 25, 1900
CHAPTER XVIII. THROUGH THE FIVE DAYS' ACTION
Venter's Spruit: January 25, 1900
CHAPTER XIX. A FRESH-EFFORT AND AN ARMY CHAPLAIN
Spearman's Hill: February 4, 1900
CHAPTER XX. THE COMBAT OF VAAL KRANTZ
General Buller's Headquarters: February 9, 1900
CHAPTER XXI. HUSSAR HILL
General Buller's Headquarters: February 15, 1900
CHAPTER XXII. THE ENGAGEMENT OF MONTE CRISTO
Cingolo Neck: February 19, 1900
CHAPTER XXIII. THE PASSAGE OF THE TUGELA
Hospital-ship 'Maine': March 4, 1900
CHAPTER XXIV. THE BATTLE OF PIETERS: THE THIRD DAY
Hospital-ship 'Maine': March 5, 1900
CHAPTER XXV. UPON MAJUBA DAY
Commandant's Office, Durban: March 6, 1900
CHAPTER XXVI. THE RELIEF OF LADYSMITH
Commandant's Office, Durban: March 9, 1900
CHAPTER XXVII. AFTER THE SIEGE
Durban: March 10, 1900
---
MAPS AND PLANS
MAPS
MAP OF MR. CHURCHILL'S ROUTE
THE THEATRE OF THE OPERATIONS IN NATAL
MAP OF THE OPERATIONS OF THE NATAL FIELD ARMY
FROM JANUARY 11 TO FEBRUARY 9, INCLUDING:
THE CAPTURE OF POTGIETER'S FERRY, JANUARY 11
THE PASSAGE OF THE TUGELA AT TRICHARDT'S DRIFT, JANUARY 17
THE AFFAIR OF ACTON HOMES, JANUARY 18
THE ACTION OF VENTER'S SPRUIT, JANUARY 20 AND 21
THE BATTLE OF SPION KOP, JANUARY 24; AND
THE COMBAT OF VAAL KRANTZ, FEBRUARY 6, 7, AND 8
MAP OF THE OPERATIONS OF THE NATAL FIELD ARMY
FROM FEBRUARY 14 TO 28, INCLUDING:
THE RECONNAISSANCE AND CAPTURE OF HUSSAR HILL, FEBRUARY 14
THE CAPTURE OF CINGOLO, FEBRUARY 17
THE ENGAGEMENT OF MONTE CRISTO, FEBRUARY I8
OCCUPATION OF THE HLANGWANI PLATEAU, FEBRUARY 19 AND 20;
AND THE BATTLE OF PIETERS FEBRUARY 21 TO 27
PLANS
THE STATES MODEL SCHOOLS
POTGIETER'S FERRY
POSITION AT MONTE CRISTO
THE COLENSO POSITION